National Fire Dog Monument wins 'Monument Madness' contest
K-9 agent Sadie, named the 2011 Law Enforcement/Arson Dog of the Year, claimed the title with 5,184 votes
---
WASHINGTON — The National Fire Dog Monument, honoring a K-9 agent named Sadie, claimed the 'Monument Madness' title after five rounds of an inaugural contest by The Washington Post.
The bronze monument "Ashes to Answers" was made by noted fire memorial sculptor Austin Weishel. He is the owner of the Colorado-based Honorable Sculptures.
The final round saw more than 9,000 votes cast between the National Seabee Memorial and the National Fire Dog Monument. Sadie's monument won over voters with a total of 5,184 votes.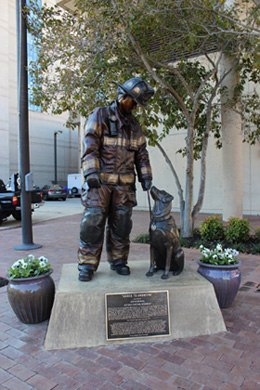 The detailed statue of a firefighter and his crime-solving black Lab combines a youthful vigor with the experience of working on hundreds of cases together, The Washington Post reported.
Sadie was named the 2011 Law Enforcement/Arson Dog of the Year.
The monument is located at Fifth and F streets in Washington.
The National Seabee Memorial ended in 4,201 votes — the second-highest tally of the entire tournament.