Virginia celebrates hiring anniversary of first Black career firefighters
The names of the state's first 10 Black firefighters are memorialized on a plaque at the location of former Engine Company No. 9 in Richmond
---
By Jessie Forand
RICHMOND, Va. — The City of Richmond celebrated the 71st anniversary of the hiring of the first 10 Black men to serve as career firefighters in the city, a first in the state as well.
A plaque bearing the names of the 10 men was the backdrop for the ceremony at the location of former Engine Company No. 9, the station where the men were initially assigned, NBC 12 reported.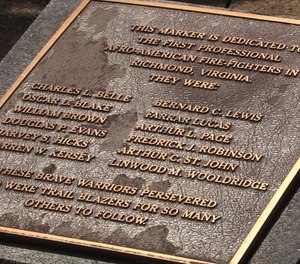 Family and friends celebrated the anniversary of their hiring, July 1, 1950, by sharing stories of their loved ones and their dedication to serving. 
"I was three years old when my dad got inducted into the fire department," Pat Whitfield said. Her father, Arthur L. Page, was among the 10 men hired. "He earned positions, but I remember him getting turned away. Not because of the content of his character, but because of the color of his skin."
During the ceremony, Richmond Mayor Levar Stoney said back then, Black firefighters at some stations weren't allowed through the front door due to segregation. 
But, Stoney added, "These men persevered. They endured. They sacrificed and they served."
Though Engine Company No. 9 shut down in 1968, the men are remembered as trailblazers.
"The ten men on the marker behind us are living examples of what commitment to a vision and belief in their community," Richmond Fire Department Chief Melvin Carter said, "so others like myself and other Richmond firefighters can be inspired to one day pick up that mantle and show others that this, too, is possible."

Request product info from top Fire Firefighter Memorials companies
Thank You!