'We share in the tragedy': N.C. city firefighters resume tradition of honoring the fallen
52 years after the last ceremony, more than 200 people gathered to honor the fallen at the Firefighters Memorial Statue in the Green Hill Cemetery
---
Kenwyn Caranna
News & Record, Greensboro, N.C.
GREENSBORO, N.C. — The tradition fell by the wayside for more than 50 years.
No one is sure why it ended in 1969.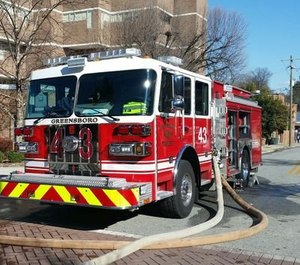 But it was brought back Thursday, amid salutes, bagpipes, speeches ... and a few tears.
The Greensboro Fire Department honored its firefighters who have died during a ceremony at Green Hill Cemetery.
Eleven firefighters are buried beside the Firefighters Memorial Statue, retired Battalion Chief Larry Cockman — who led the effort to revive the memorial — told the crowd of about 200.
Fire Capt. Dave Coker specifically addressed the 18 families of firefighters who have died that were in attendance.
"On the day that your loved one was laid to rest, there were firefighters on duty and could not be there because the trucks have to keep rolling," Coker said. "We share in the weight of the loss you feel. We share in the tragedy and we share in the beauty of an institution like the fire department."
Fire Chief Jim Robinson read the names of 22 firefighters at the event — some who gave their lives while in the line of duty, others who did not.
"We want to continue this tradition on and on for many years to come," Robinson said.
Cockman's brother, Capt. Raymond Cockman, who died while on duty of a heart attack in 1987, was among the names read.
"I held his hand when he took his last breath," said Cockman, recalling when he raced to his brother's fire station upon hearing the news. "I'll never forget that."
But Cockman noted that "it would be almost insurmountable" to gather and read all of the names of firefighters who have died (including those of natural causes) since 1969.
"But we still remember them," he said. "They're no less important than the ones who were called out today."
Coker, who is president of the Greensboro Firefighters Union, International Association of Firefighters Local 947, noted the strong ties among firefighters and their families.
"It is this roving band of service-oriented, joking, trash-talking, pranksters that are just a group of lovable dumdums," he said, adding himself among them. "That is the environment that forged us into the family no matter who we were, where we came from.
"And there's something else that fire department families know all too well, and that is that the fire department occupies the space of both profound beauty and profound tragedy."
The beauty, he said, because "it is populated by men and women who have bought into the notion that the mission of the organization is greater than the wants and needs of the individual firefighter."
The tragedy is that in an organization whose primary mission is based on service to others, "it can be easy for the individual to get lost in that monolith," Coker said.
"But our job here today," Coker continued, "is to revive a tradition that helps blunt that tragedy. Our job today and moving forward, is to capture those moments that may otherwise be lost — record them, remember them and add them to the institutional memory of the Greensboro Fire Department."
Toi Wilson and Robin Whitaker, whose father Robert L. Davis was among the first class of Black firefighters in the department, said they appreciated Thursday's ceremony.
"I think it's absolutely amazing and perfect, said Wilson, whose father died last year.
They shared stories about growing up in a firefighter's family.
"We used to go to the fire department when my Dad would work on holidays and they would have the best food, the best food," Wilson said.
Lee Caviness said his son, Will, loved being a firefighter. He died in 2011 while running in the Chicago Marathon.
Even while running in the marathon, Lee said his son was serving others. He was running on behalf of a foundation that raises money for children who suffer from burn injuries.
Another son, Greensboro Fire Capt. Sean Caviness, was working Thursday and couldn't attend the ceremony.
Bill Rice's sister, Mitzi Rice, was the department's first full-time public safety educator. She died of cancer in 2010 and had entertained and educated children on fire safety as "Flame the Clown."
"These guys were speaking from the heart," he said of the ceremony. "It really made me ... even more proud that she chose that profession."
___
(c)2021 the News & Record (Greensboro, N.C.)
McClatchy-Tribune News Service

Request product info from top Fire Firefighter Memorials companies
Thank You!