PRESS RELEASE
Honoring the Lives Lost by Feeding Those in Need
---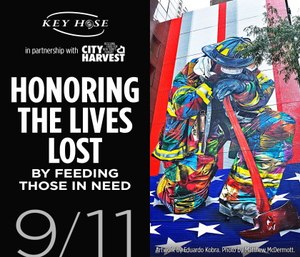 DOTHAN, AL — Eighteen years have passed since the 9/11 terrorist attacks. 2,977 people were killed during these vicious attacks. Most of those who perished were civilians except for 343 firefighters and 71 law enforcement officers who died in the World Trade Center and on the ground in New York City; another law enforcement officer died when United Airlines Flight 93 crashed into a field near Shanksville, Pennsylvania, as well as 55 military personnel who died at the Pentagon in Arlington County, Virginia. In honor of these lives, Key Fire Hose is donating $5,000 to the City Harvest of New York, which will provide 5,000 meals — the first 2,977 meals in remembrance of the 9/11 victims and their families. City Harvest exists to end hunger in communities throughout New York City. They take on this huge initiative through food rescue and distribution, education, and other practical, innovative solutions.
Key Hose is proud to partner with City Harvest, an organization that diligently works to help feed over one million New Yorkers each year. Burke Genthner, President, Key Fire Hose, expressed, "We're so thankful for the opportunity to join the effort already supported by the FDNY and the NYPD. We hope our support will help bring awareness to eliminating hunger on a day that we have so much to remember."
You can stand with Key Fire Hose and City Harvest to help feed even more families during the "Hunger Action Month" of September by donating today. One generous donor is matching all gifts, dollar-for-dollar, up to $100,000, until September 30. Every dollar donated will be doubled, meaning the donation by Key Fire Hose and the corresponding match will provide about 40,000 pounds of food to the hungry throughout the area. Beginning next month, the FDNY and the NYPD will aid in hosting the Daily News Food Drive, the largest food drive in New York City.
About Key Hose, Inc.
With over three decades of service, Key Fire Hose is the industry leader in the design and manufacture of woven jacketed and rubber covered fire hose products. In striving to become the "best hose company in the world," we've grown from our original 16 looms to reach triple-digit loom capacity with multiple facilities proudly based and manufacturing in southeast Alabama. For further information, please visit our web site at www.keyhose.com

About City Harvest
City Harvest helped start the food rescue movement in 1982 when a group of New Yorkers saw that New York City had an abundance of excess food even while a large number of its residents struggled to feed themselves and their families. Today, City Harvest is New York City's largest food rescue organization, helping to feed the nearly 1.2 million New Yorkers who are struggling to put meals on their tables. Our programs help food-insecure New Yorkers access nutritious food that fits their needs and desires; increase our partners' capacity; and strengthen the local food system, building a path to a food-secure future for all New Yorkers. Visit cityharvest.org to donate and learn more.