PRESS RELEASE
Missouri Firefighter Wins Safe Firefighter of the Month Award
---
CONSHOHOCKEN, Pa. — The most recent recipient of Hale's Safe Firefighter of the Month Award is firefighter Christel Cantrell of the Howell County Rural Fire Department. Firefighter Cantrell has faithfully served the department in West Plains, Mo., for the past 10 years.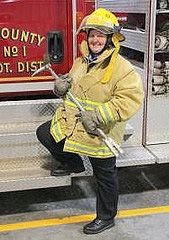 "During my career I've known people who were injured and even killed in the line of duty. It really hits home when something tragic happens to a friend or fellow firefighter," said Cantrell, who was very grateful for her recent award. "Knowing that some of those accidents could have been prevented really pushed me to make safety a top priority."
As the July 2011 winner of Hale's Safe Firefighter of the Month Award, Cantrell has been recognized for her efforts to emphasize safety at the Howell County Rural Fire Department and within the community. When called to a scene, she is in charge of the ID tag system used for firefighter accountability. At times when additional manpower is required, Cantrell is charged with keeping track of firefighters from neighboring fire stations as well.
"Keeping track of all personnel at the scene of an emergency is the best way I've found to make sure everyone goes home," Cantrell said. "In addition to the ID tag system, it's vital for firefighters to wear the proper protective gear at all times."
Cantrell also believes it's important to give back to the community. She takes time to schedule fire prevention sessions for neighboring schools and throughout the community. When she learned that some families in West Plains do not have home fire alarms, Cantrell applied for a fire safety grant, which she hopes will fund the purchase of alarms for all Howell County residents.

About Hale
Hale, based in Conshohocken, Pa., is a fire and rescue equipment company founded in 1914 by three Pennsylvania firefighters who believed they could build a better fire pump. Today, the company has grown through new product innovation and strategic acquisitions to supply pump modules, compressed air foam systems, electronic controls and valves. For more information, visit www.haleproducts.com.