PRESS RELEASE
New Safe Firefighter of the Month Program from Hale Recognizes Outstanding Performance
---
Campaign sponsored by Hale and National Fallen Firefighter Foundation launches
 at FDIC 2010
CONSHOHOCKEN, Pa. — Firefighters serve a sacred duty to protect life and property in their communities, but they also must serve a higher duty to themselves and their family to stay safe and healthy. Hale takes firefighter safety seriously, and that's why it has partnered with the National Fallen Firefighters Foundation (NFFF) to sponsor the Safe Firefighter of the Month Recognition Program.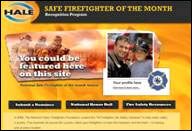 The Safe Firefighter of the Month program is designed to help firefighters focus on the 16 Life Safety Initiatives outlined in the NFFF's "Courage to Be Safe" campaign. Fire companies that would like to participate in the program can obtain a kit from Hale that contains everything they need to honor those individuals who go above and beyond to make health and safety a priority.
Each month, fire departments are encouraged to nominate a Safe Firefighter of the Month and present him or her with a certificate provided in the program kit. Monthly winners can be submitted to Hale as nominations for National Safe Firefighter of the Month at www.safe-firefighter.com. Each month, a top candidate will be chosen from the submissions made by firehouses across the U.S., and the winners and nominees will have their photos and profiles displayed on the Web site.
In June 2011, Hale and the NFFF will select a "Safe Firefighter of the Year" from among the monthly winners. Hale will award a health and safety prize package to the firehouse of the winning firefighter.
For more information about the Safe Firefighter of the Month program, visit
www.safe-firefighter.com.
About Hale
Hale, based in Conshohocken, Pa., is a fire and rescue equipment company founded in 1914 by three Pennsylvania firefighters who believed they could build a better fire pump. Today, the company has grown through new product innovation and strategic acquisitions to supply pump modules, compressed air foam systems, electronic controls and valves. For more information, visit www.haleproducts.com.