PRESS RELEASE
Pierce and Harley-Davidson Announce Third Consecutive Year of NFFF Full Throttle Support Campaign
---
Kick off held at Sturgis Motorcycle Rally with Sweepstakes for Harley-Davidson Street Glide® Motorcycle to benefit fallen firefighters.
APPLETON, WI. -- Pierce Manufacturing Inc., an Oshkosh Corporation company, and Harley-Davidson Motor Company today kicked off year three of their NFFF (National Fallen Firefighters Foundation) Full Throttle Support sweepstakes. The NFFF Full Throttle Support III program, launched today at the Sturgis Motorcycle Rally, features a sweepstakes for the chance to win a custom, one-of-a-kind Harley-Davidson Street Glide® motorcycle. To date, Pierce and Harley-Davidson have raised more than $250,000 to benefit the NFFF's mission of supporting the families of firefighters who have lost their lives in the line of duty.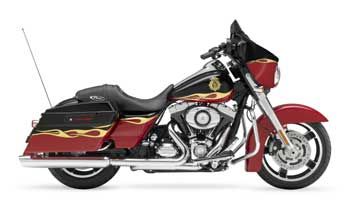 Visitors at Sturgis will be invited to donate to the National Fallen Firefighters Foundation and enter in the sweepstakes. Go to NFFF.FullThrottleSupport.com or send a text message to 80000 with the message NFFF to donate $10. You can donate and enter up to 3 times via text messaging and 20 times online.
 
"Working with Harley-Davidson and the National Fallen Firefighters Foundation has grown to become an important part of the Pierce company mission, as we give back to the firefighting industry and reach out to honor and remember America's fallen fire heroes," said Jim Johnson, Oshkosh Corporation executive vice president and president, Fire & Emergency.

Since its inception, NFFF Full Throttle Support has generated 16,163 individual donations to the NFFF.  The NFFF is a 501(c)(3) nonprofit organization dedicated to honoring the memory of America's fallen firefighters as it allocates resources to aid their surviving spouses and children with scholarship assistance for educational and job training costs, and for peer networks that offer families and coworkers essential emotional support. 

"On behalf of Harley-Davidson Motor Company, and its dealers and riders, we are honored to play a role with Pierce and its dealer network to sponsor the NFFF Full Throttle Support III campaign," said Steve St. Thomas, Harley-Davidson Motor Company Director of Fleet Sales. "We are proud to be a sponsor of this important cause together with Pierce and the entire firefighting community."

"The NFFF is very appreciative of the support and encouragement provided by both Pierce and Harley-Davidson.  Without their commitment to the families of fallen firefighters, our programs and services would not be as effective as they have been," said Ron Siarnicki, NFFF Executive Director.  "NFFF Full Throttle Support is one of our longest running, premiere fundraising efforts, and we are proud to have formed such close relationships with the outstanding people in these fine organizations."

No purchase/donation necessary to enter. Age for eligibility is subject to entrant's state law. Complete rules for entering and eligibility are available at: NFFF.FullThrottleSupport.com. Employees of Oshkosh Corporation, Pierce Manufacturing, Harley-Davidson, the National Fallen Firefighters Foundation, and their families are not eligible for the sweepstakes. Sweepstakes void where restricted or prohibited by law.

About Pierce Manufacturing
Pierce Manufacturing Inc., an Oshkosh Corporation company, is the leading North American manufacturer of custom fire apparatus. Products include custom and commercial pumpers, aerials, rescue trucks, wildland trucks, minipumpers, elliptical tankers, and homeland security apparatus. In addition, Pierce designs its own foam systems and was the first company to introduce frontal airbags and the Side Roll Protection system to fire apparatus. To learn more about Pierce, visit www.piercemfg.com.
About Harley-Davidson Motor Company
Harley-Davidson Motor Company, the only major U.S.-based motorcycle manufacturer, produces heavyweight motorcycles and a complete line of motorcycle parts, accessories and general merchandise. For more information, visit Harley-Davidson's Web site at www.harley-davidson.com.
About National Fallen Firefighters Foundation
The United States Congress created the NFFF to lead a nationwide effort to remember America's fallen firefighters. Since 1992, the nonprofit foundation has developed and expanded programs to honor fallen fire heroes and assist their families and coworkers.  The NFFF also works closely with the U.S. Fire Administration to help prevent and reduce line of duty deaths and injuries.  For more information on the Foundation and its programs contact us at 301-447-1365 or visit www.firehero.org.
About Oshkosh Corporation
Oshkosh Corporation is a leading designer, manufacturer and marketer of a broad range of specialty access equipment, commercial, fire & emergency and military vehicles and vehicle bodies. Oshkosh Corporation manufactures, distributes and services products under the brands of Oshkosh®, JLG®, Pierce®, McNeilus®, Medtec®, Jerr-Dan®, Oshkosh Specialty Vehicles, Frontline™, SMIT™, CON-E-CO®, London® and IMT®. Oshkosh products are valued worldwide in businesses where high quality, superior performance, rugged reliability and long-term value are paramount. For more information, visit www.oshkoshcorporation.com.

Request more info from Pierce Manufacturing
Thank You!