PRESS RELEASE
San Francisco Firefighters to Host 9/11 Memorial Stair Climb
---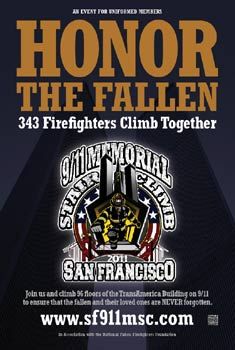 San Francisco, CA – An all-volunteer team of firefighters and civilians in San Francisco has come together, in association with the National Fallen Firefighters Foundation, to host a 9/11 Memorial Stair Climb to honor those who lost their lives on September 11th, 2001. The stair climb will be held at the Transamerica Pyramid building in downtown San Francisco.

Firefighter Greg Collaco and a group of volunteers have come together to make up the SF 9/11 Stair Climb Team and to donate their time and skills to this event. The commemorative stair climb will honor the 343 FDNY Firefighters as well as the 23 NYPD officers and 37 Port Authority Officers that paid the ultimate sacrifice in September of 2001. Each member of the team will climb the 48 floors of the pyramid twice, equally 96 floors, wearing the name and photograph of one of the 343 firefighters that died on 9/11.

Who:
Uniformed members (Fire, Law Enforcement, Military) from all over the nation

What:
San Francisco 9/11 Memorial Stair Climb

When:
Sunday, September 11, 2011
Sign-In: 7:30AM
Climb Time: 9:00AM

Where:
Transamerica Building
600 Montgomery Street
San Francisco, CA 94111

Why:
To ensure that the fallen first responders of September 11th and their loved ones are never forgotten.

"Whenever I think of 9/11, I have an image of the firefighters in the high rises, so the stair climb for me is synonymous with firefighters in a stairwell," said Collaco. "People will have to dig deep. I'll remind them that they're doing it for the firefighters who died and to let their families know that we haven't forgotten."

This climb will be the largest event on the West Coast of its kind. The event is not a race – this is a charity climb in full firefighter gear or full law enforcement attire with no time limit.

Register for the Stair Climb here: http://www.sf911msc.com/content/register-climber-or-climber-group. The cost for the event will be $25 which includes a commemorative t-shirt. Attendance is limited to 343 climbers. All proceeds will go to the National Fallen Firefighters Foundation.

About the National Fallen Firefighters Foundation
The U. S. Congress created the non-profit National Fallen Firefighters Foundation in 1992 with the mission to honor fallen firefighters and to assist their survivors in the rebuilding of their lives. The Foundation has developed many programs to fulfill this mandate. The Foundation is a 501(c) (3) nonprofit organization, located in Emmitsburg, Maryland, and registered as a corporation in the State of Maryland. Donations from individuals, organizations, corporations, and foundations fund many of the Foundation's programs. A grant from the Department of Justice's Bureau of Justice Assistance supports programs for survivors and coworkers of firefighters killed in the line of duty. The Foundation has developed many programs to assist survivors of fallen firefighters.