Behind the Scenes: Check out 3M's new heat-applied fire coat trim
3M scientists continue to innovate, announcing their first-to-market reflective and fluorescent fire coat trim that is heat-applied onto turnout gear
---
The following is paid sponsored content by 3M.
By Mary Rose Roberts for FireRescue1 BrandFocus
3M has announced that its newest innovation, 3M Scotchlite Reflective Material – Series 5600 Fire Coat Comfort Trim, is now available: a heat-applied, segmented, reflective technology that is attached directly to the outer shell of turnout gear without the need for sewing.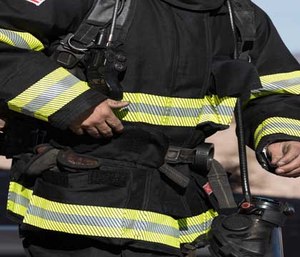 Here's why this new trim is a game changer when it comes to firefighter turnout gear:
Engineering the product
3M has a reputation for being a science-based company with a culture of innovation, including fire products like Series 9500 Fire Coat Trim as well as their new Series 5600 Fire Coat Comfort Trim.
"The new Series 5600 Fire Coat Comfort Trim is a material that helps provide daytime fluorescence and nighttime reflectivity," said Reflective Material Technical Specialist Ken Hanzalik, 3M Scotchlite. The trim meets the Stored and Thermal Energy test requirements found in NFPA 1971 without any modification of the trim or addition of any extra layers, he said.
"3M scientists strive to improve their last invention," Hanzalik said. He said the industry as a whole has been shifting toward lighter-weight, more flexible garments, and 3M wanted to help solve the lack of flexibility found in sewn-on reflective fire coat trim.
So the 3M development team started to brainstorm on ways they could make the Series 5600 Fire Coat Comfort Trim as robust as the current trim, but seamless, and also to improve the breathability and flexibility.
"It's ingrained in our company to keep pushing our team of scientists and researchers to come up with innovative new products," said Hanzalik. "Firefighters work in extreme conditions, so when it comes to personal safety, we want to ensure we have a diligent process to bring to market a product that can withstand the harsh conditions they face."
Combining two technologies
In this case, the company blended existing technologies to create the new fire coat trim product.
The first step was to leverage their existing Series 9500 fire coat retro-reflective technology. The trim uses glass beads about 65 microns across; smaller than the width of a human hair. Each one has a reflective mirror on the back.
"We use glass beads because they are stable when exposed to heat" he said.
Based on light-refraction science, the light comes in, reflects within the bead and projects back to the light source, such as a firefighter's flashlight or a vehicle's headlights. Each bead sends out a cone of light, much like the highway signs that reflect your headlights when you are driving down the road, Hanzalik said.
3M took this reflective technology and combined it with their expertise in the heat-applied transfer film business.
The development team then went to work, creating the new, more flexible, breathable fire trim that is smooth to the touch and stitch-free.
Eliminating the stiffness and adding comfort
Firefighters like the feel of broken-in gear because it is flexible and comfortable.
The new heat-applied fire trim reduces much of the stiffness and bulkiness caused by old, multi-layered fire trim– and the gear feels closer to broken-in right from the box, Hanzalik said.
This is because the new fire trim behaves like a single layer with the turnout gear shell versus previous versions that were 2 distinct layers.
It also doesn't have the "catch points" most trim has, he said. One of the disadvantages of sewn-on trim is that it may get caught on something – the last thing a firefighter wants when moving through a burning building.
At the same time, it still offers the same level of visibility, Hanzalik explains. 3M human factors data of nighttime and daytime visibility properties of segmented products indicated no significant performance differences when compared to solid trims.
He said the new trim helps ensure reflectivity at nighttime and visibility during the day.
"At a distance, there is no visual difference between a segmented and a solid trim when viewed at night," he said. "The brightness of the light reflected causes overglow that fills in the empty spaces."
3M's new fire coat trim is another of the many innovations the company brings to market. This product will be a game changer when it comes to providing firefighters with more flexible and comfortable turnout gear.
For more information about how to get the new fire coat trim integrated into your gear, visit 3M.