Clean cabs: A NM fire department takes PPE out of the crew cab
Bernalillo County Fire and Rescue Department integrates new apparatus in comprehensive firefighter safety, health and wellness initiative
---
Bernalillo County (New Mexico) Fire and Rescue Department (BCFR) has developed and implemented a model for improving and protecting the health and safety of its firefighters. Under the leadership of Chief Greg Perez, BCFR has taken the philosophy, policies and procedures from those efforts and used them to make a fire apparatus purchasing decision that supports its health and wellness efforts.
Perez certainly didn't follow the traditional career path to the department's top spot. He rose through the ranks to the position of deputy chief and was named as the interim fire chief from November 2014 through May 2015 as the county's leadership searched for a new chief.
In November 2015, Perez became deputy county manager of public safety. Two years later, he once again was put into the interim fire chief job. In July 2018, Deputy County Manager Perez was appointed as the full-time fire chief for BCFR (and he still wears the hat of deputy county manager for public safety).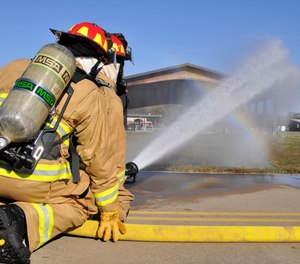 Perez's work within the upper management of Bernalillo County increased his knowledge and appreciation for the importance of protecting human capital: the county employees who were BCFR firefighters.
"The Chief's philosophy, which has become our department's philosophy, is that our firefighters are the only piece of equipment that needs to last 25 years," said the department's PIO, Lieutenant David Lujan during an interview with FireRescue1. "Everything else has an expected lifespan of 10, 15, maybe 20 years," said Lujan, "But we want our firefighters to last 25 years, and retire in good health and enjoy a well-deserved and hard-earned retirement."
The road to firefighter health and wellness
Beginning in 2012 BCFR started its health and wellness program with regularly scheduled medical assessments for all its people. Personnel were scheduled for their health assessment yearly, every three years, or every five years depending upon their assigned duties.
That was followed by the implementation of a physical fitness and training program. "Chief Perez emphasized that we needed both programs to give us the statistical data to show that firefighters were healthy individuals before they had a catastrophic illness like a heart attack or cancer," said Lujan.
According to the lieutenant, the driving force for such data was New Mexico Stat § 52-3-32.1 (2016), Firefighter Occupational Disease, aka, the Presumption Act. The statute reads:
If a firefighter is diagnosed with one or more of the following diseases [listed within the statute] after the period of employment indicated, which disease was not revealed during an initial employment medical screening examination or during a subsequent medical review pursuant to the Occupational Health and Safety Act [50-9-1 through 50-9-25 NMSA 1978] and rules promulgated pursuant to that act, the disease is presumed to be proximately caused by employment as a firefighter.
Some of us older folks may remember that the late Charlie Rule, as the Fire Chief of the Alexandria (Virginia) Fire Department, in late 1977, announced that Alexandria would require new firefighters to pledge not to smoke on or off duty and threatened to fire anyone who broke the pledge.
The fire chief said he decided not to hire firefighters who smoke because, under Virginia's Heart and Lung Act, fireman (sic) who suffer from pulmonary diseases or heart attacks are presumed to be incapacitated as a result of their job. They can retire, therefore, with an extra-large pension. The fire chief says he does not believe the city should be subsidizing smokers. (Cue, 1978)
Engineered solutions
According Lujan, the department also started looking at its PPE options and work practices as they related to firefighter health and wellness. "Like everyone else in the fire service, when we started learning about the increased risk of cancer, we started looking at what we needed to do," said Lujan. The department began:
On-scene gross decontamination for those firefighters who worked in the hazard area
Laundering PPE after structure fire responses
Protective hood exchange after a fire
The use of disposable wipes for cleansing the head, neck, arms and hands after doffing their PPE after a fire
Next, Chief Perez assembled a joint labor and management committee to investigate what the department needed to continue in its progress for keeping its firefighters healthy and safe. That committee recommended that the department:
Keep SCBA and contaminated PPE out of the crew cabs on all fire apparatus (by this time personnel had each been issued a second set of structural firefighting PPE)
Develop policies and procedures for the regular cleaning and decontamination of the crew compartment and exterior compartments on the apparatus (the latest procedure calls for crews to give the interior of the crew cab a complete interior detailing every two weeks)
Clean cabs: donning PPE on scene
But the latest quantum leap in protecting firefighter health occurred when the department took delivery of one of two new pumpers that were specifically designed to accommodate the committee's biggest recommendation to date: personnel wait until they arrived on scene to don their PPE and SCBA.
The new engines have compartment space that's been designed to keep firefighting PPE out of the crew cab, yet ready for firefighters to don upon arrival at the call. "It's a huge change, not only for firefighters, but the citizens of the county, too," said Lujan. "The last thing we want is for the public to say we didn't show up ready to do our job because we're suiting up on scene."
According to Lujan, the department has reached out to local print and on-air media to inform and educate the public and help change those expectations. "Every firefighter had to show that they could don their PPE and SCBA in 90 seconds or less to get their firefighter certification," said Lujan. "So, 90 seconds is 90 seconds, whether it's in the fire station or on the scene."
The educational outreach to both the public and the firefighters of BCFR continues. Lujan acknowledged that there was still work to be done in that regard. "We'll continue using our website and our Facebook page to keep this in front of everyone, especially as we get closer to the actual turn on date and beyond," said Lujan.