Firefighter injuries: The role of PPE in prevention and protection
Data from the NFPA report "Firefighter Injuries on the Fireground" can guide us toward better use of PPE to mitigate injuries
---
This content originally appeared in FireRescue1's PPE101 newsletter. Sign up here for the latest news, training and standards information related to firefighter PPE.
Fire departments nationwide have increasingly made investments to improve fire safety through training, policies and procedures, and the purchase of effective PPE.
But how are those fire departments measuring their return on investment?
One way to measure that ROI is to have a better understanding of how well PPE and training are working, and for that it's useful to be educated about firefighter injuries. For example, how and where firefighters are getting injured and what work they were doing at the time of injury – just two pertinent data points fire department leaders should know if they are to identify risk factors, develop prevention programs, and make improved resource decisions for their members.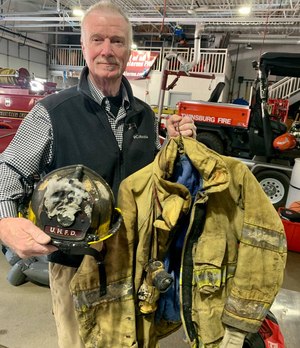 NFPA injury report
In September 2021, the NFPA published the report Firefighter Injuries on the Fireground. The report, which looked at data from 2015 to 2019, details the injuries firefighters experience, where those injuries take place, what firefighters were doing at the time of injury, and what were the outcomes and severity of those injuries.
The high-level results: In the U.S., firefighters annually experienced an average of 24,950 non-fatal injuries on the fireground. The most common fireground injuries occurred where the firefighter was exposed to a hazard (e.g., heat, smoke, or toxic agents), and due to overexertion (e.g., heat stress injuries) and muscles strains.
Let's break down some of the data.
Severity of injury: 30% of fireground injuries caused the firefighter to lose time from work, and 39% of injuries were reported but the firefighter was able to return without any time lost. Another 1% of injuries required treatment by a physician, but no lost time, while another 13% were classified as only having received first aid at the scene.
Location where injury occurred: In 29% of incidents, the firefighter's injury occurred while they were working outside at grade level. In 27% of incidents, the firefighter was working inside a structure (but not the attic).
Career firefighters: For the five-year stretch examined, career firefighters experienced an annual average of 20,650 fireground injuries. The top five fireground injuries:
Strains or sprains (27%)
Smoke inhalation (18%)
Pain only (12%)
Thermal burns (7%)
Cuts or lacerations (5%)
Further, 40% of reported injuries happened most often while working in structures, and another 38% while the firefighter was working outside at grade. One-third experienced lost time injuries of moderate severity.
Volunteer firefighters: Volunteer firefighters experienced an annual average of 4,300 fireground injuries each year from 2015 to 2019. Approximately half of those injuries (49%) occurred while the firefighter was working outside at grade, and 27% of the injuries occurred inside a structure. Approximately 38% needed treatment by a physician but did not result in lost work time.
The most common injuries experienced by volunteer firefighters:
Sprains or strains (15%)
Exhaustion or fatigue (11%)
Cuts or lacerations (9%)
Thermal burns (9%)
Smoke inhalation (5%)
Your PPE elements
PPE is only as good as a firefighter's knowledge and understanding of their PPE – proper use and the hazards it's designed to protect them from.
The structural firefighting protective ensemble: The ensemble (coat pants, helmet, boots, and gloves) is designed to protect you from the thermal and mechanical hazards of firefighting and, if necessary, supply a level of protection in case of a flashover.
The downside of the ensemble is that it creates a micro-environment that exposes the wearer to the effects of heat stress because the body is generating more heat inside the ensemble than can be dissipated through the garment. That's why it's critical that the elements of your ensemble fit properly. Gear that's too big or too small is gear that's working against you, not for you. That extra effort only serves to worsen the build-up of heat inside your ensemble and can lead to heat stress injuries or a sudden cardiac event (e.g., heart attack or stroke).
Gloves: Proper glove fit is important for any glove, especially structural firefighting gloves. Nonstructural firefighting tasks (e.g., technical rescue) have driven more firefighters to embrace the use of specialty gloves that are more ergonomically designed to provide the necessary protection along with improved dexterity.
Eye protection: You only have one pair of eyes, and the potential for eye injuries is a significant risk for many occupations, including firefighting. Goggles and safety glasses supply a greater level of protection than Bourke eye shields or your helmet-mounted flip-down shield. The most important thing about eye protection is that it should be used for all work that firefighters do, both on emergencies and around the station.
Hearing protection: Hearing loss is far too common of a preventable, chronic injury for firefighters. As with eye protection, hearing protection should be used whenever a noise hazard exists, and that includes work around the fire station. And it's not just a question of hearing loss as I wrote about the other physical maladies that excessive exposure to noise can cause in 'What did you say?' Understanding the risk of hearing loss among firefighters.
Gas monitoring: Probably the most overlooked piece of PPE, but very important because what you can't see (e.g., gases and vapors) can hurt you. And that goes for any emergency response. A growing number of fire departments are equipping their personnel with wearable carbon monoxide (CO) detectors in response to the increasing number of responses to emergency medical incidents where (CO) was found to be present.
Bringing it all together
The research that's been done – and continues to be done – by UL's Fire Safety Research Institute on fire behavior in structures is a prime example of research that's had a positive influence on firefighter safety, strategy and tactics. Another good example is the work of Dr. Denise Smith and her team at the First Responder Health and Safety Laboratory on the effects of heat stress on firefighters. This added data is a great extension of that knowledge, giving us an even closer look at how our PPE protects us on the incident scene.
The bottom line: The best PPE is that which is used properly and consistently.