Firefighting couple takes family tradition to next level
Jamie and Teresa Kuchyt's marriage of two firefighting families gives them an incredible combined 150 years of service with the fire company
---
The Fabric of the Fire Service is a new program from FireRescue1 and TECGEN that uncovers great firefighter stories and honors those who have gone beyond the call of duty to help others. The Kuchyt family has deep roots in the fire service and a sense of duty and commitment to the community that stretches over generations. Submissions are still open for the brotherhood and community threads. Tell us your story and you could win a full set of TECGEN PPE gear.
The tones drop for the Haddam (Conn.) Volunteer Fire Company, and Jamie and Teresa Kuchyt throw on their gear and head out the bay doors.
The call is for a heavily involved house fire.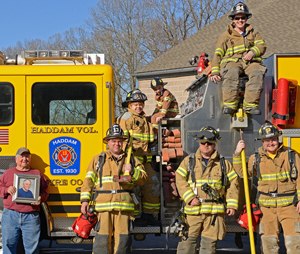 Jamie goes in with the attack crew; Teresa stands on the sidelines.
She wasn't always that way, but now she can't bear to go inside. All she can think about is going home to their 8-year-old son.
So, instead, she helps with lines while her husband helps put out the fire. And after the fire is extinguished, they both get into the rig and make their way back to the firehouse.
Jamie and Teresa may fight fires and sometimes go on calls together, but they aren't your typical married firefighting couple. When they get back to the firehouse, they go their separate way and do their own thing.
It's how they balance work, family and volunteering.
Family tradition
The Kuchyt's have a long, deeply embedded family fire service history. Their marriage, now in its 13th year, is also a marriage of two firefighting families, which gives them an incredible combined 150 years of service with the fire company.
Jamie, who started as a junior and became a full member in 1981, currently serves as assistant chief and will receive his 30 years of service pin this year. He was named Firefighter of the Year in 2009.
His father, Martin, joined in 1948 and has served Haddam Fire for 17 years. He earned life membership in 1965. Martin's brother, Robert, joined in 1957 and earned life membership in 2000. He died in 2009 after a brief illness while on vacation with his wife.
Jamie's brother, Scott, the eldest of Martin's sons, started as a junior and became a full member in 1981. He's taken on various officer roles including captain and assistant chief. He has two sons, Mike and Kyle, who are also firefighters and EMTs.
In 1992, Teresa joined the fire company, achieved the rank of firefighter in 1993. She's also the company's fire historian, won Firefighter of the Year in 2008, and received her 20 years of service pin last February as well as The Chief's Award. The award recognized her efforts as historian, administrator of call records and organizer for events.
Her grandfather and great grandfather were also members of the fire company and were present at the original firehouse dedication in 1930.
'My son changed everything'
Teresa's passion for the fire company and its history is contagious. And like any other firefighter, when her pager goes off she wants to help.
"When I was pregnant with my son, I started looking at our old books and minutes and wanted to rewrite them," Teresa said. "It was something to do when my husband went to a call and I couldn't because I was pregnant. It was a big adjustment and I really missed responding."
Teresa and Jamie met while on the fire department and tried to keep their dating a secret because they didn't want to be treated any differently. Being a married firefighting couple didn't seem to make much difference until after their son was born.
"We'd be on a truck and I'd [think], 'OK, if this truck flips over our child is an orphan,'" she said. "I refuse to go on calls with Jamie at the same time unless I absolutely have to and I won't go into a burning building anymore. It scares me to death. I can't concentrate."
When at a vehicle crash or medical call involving a child, she automatically treats it as if it were her own child — and with good reason.
"Being in a small town, 8 out of 10 times you know the person who has been in the accident or the house you're going to," she said. "Especially now since my son is in school, I know that I've seen those kids or parents before and it's scary. You're pretty much related to everyone in a small town."
How their firefighter marriage works
Teresa and Jamie don't have any secrets to share when it comes to how their firefighter marriage works.
"Teresa does her thing, and I do mine," Jamie said. "She's available during the day when I'm not and vice-versa. It just works out."
They talk to each other during the day and go home together, but they don't work side-by-side unless they have to.
"He's an officer, so he's usually the one giving me orders and I'm taking them," Teresa said. "It's much different than at home!"
It's an old joke — and probably half-truth — that the firehouse is the place guys go to get away from their wives and kids.
But Jamie and Teresa don't do that.
"What we do in our marriage works best for us, but may not work for others. You just have to find that balance."
After 13 years of marriage, they've found that happy balance between firefighting and family. And to think their story all started with a grandfather, his brother, their sons, a wife and their boys joining the fire service. Only time will tell if their 8-year-old follows the family tradition of firefighting, but smart money wouldn't bet against it.