Fla. fire dept. receives donation of 90 carcinogen-blocking hoods
The Rotary Club of Flagler County purchased the gear with the help of the nonprofit organization Hoods for Heroes
---
Shaun Ryan
The News-Journal, Daytona Beach, Fla.
PALM COAST, Fla. — Flagler County firefighters will soon be better protected against cancer-causing agents whenever they respond to a blaze, thanks to the efforts of a group of local professionals.
The Rotary Club of Flagler County has purchased 90 special hoods designed to block out carcinogens through Hoods for Heroes, a nonprofit organization based in Clay County. In addition, the Jeff Evans State Farm Agency of Palm Coast also has purchased 23 hoods with the help of the corporate office of State Farm Insurance.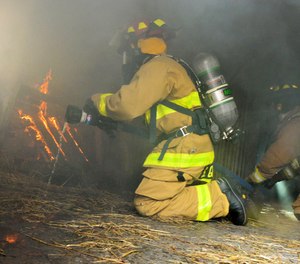 The hoods were distributed during a ceremony Tuesday.
"The Rotary Club of Flagler County is passionate about protecting the firefighters who protect us," club president Cindy Kiel Evans said in a media release. "Firefighters risk their lives by going into a burning fire or when putting out a burning car to avoid an explosion at a crash scene, but years from now they may see the effects of their dangerous role when some may be stricken with several forms of cancer from carcinogens they were exposed to."
Though firefighters typically wear a protective hood underneath their helmets, the material — Nomex — is designed to resist heat, not carcinogens. But modern furnishings are often made from materials such as polyurethane and plastic that release carcinogens when they burn.
Some of these carcinogens enter the body through contact with the thinner layer of skin around the face, head and neck, thus the need for protection.
In a 2016 study, the National Institute for Occupational Health and Safety found that firefighters had a 9 percent higher risk of being diagnosed with cancer and a 14 percent higher risk of dying from cancer than the general public. For some types of cancer, the statistics are worse. Firefighters are twice as likely to contract testicular cancer or mesothelioma, for instance, according to data from the Firefighter Cancer Support Network.
According to Hoods for Heroes president William Hamilton, the particulate-blocking hoods block more than 99 percent of the carcinogens.
Hoods for Heroes was launched last year in Clay County where Hamilton and business partner Jeff Rountree are Rotarians. They encountered the need for better protection against carcinogens while planning an event to thank local firefighters for what they do.
Thanks, Vincent. We had a great time today honoring the firefighters in Flagler and Flagler Beach with new particulate hoods!! #HoodsForHeroes #Rotary6970

Posted by Hoods for Heroes on Tuesday, March 26, 2019

The gear each firefighter wears already costs thousands of dollars, according to Hamilton. Though the Nomex hoods cost only $15 to $20 each, the hoods designed to protect against carcinogens run about $125 apiece.
Hoods For Heroes has since been raising awareness and enlisting community partners in supplying these hoods.
Hamilton said Monday that his organization was very appreciative of participation by the local club.
"The Rotary Club's mission of 'service above self' is evident in the support of its members for firefighters," he said in a media release. "By supporting the heroes who take care of us, the Rotary Club of Flagler County is modeling its service to the community in a powerful way."
The idea to buy the hoods began with a presentation by Hamilton to the club last fall. Right away, Fire Chief Jerry Forte, a club member, arranged to purchase hoods for all the firefighters in Palm Coast.
Since then, the club acquired a matching grant from the Rotary Foundation to buy 90 hoods for $11,250 to give to every firefighter in the county and Flagler Beach.
However, because the county had absorbed the Bunnell fire department, 13 more hoods were needed and Jeff Evans State Farm Agency of Palm Coast bought those at a cost of $2,875 with the help of the State Farm Insurance corporation.
©2019 The News-Journal, Daytona Beach, Fla.
McClatchy-Tribune News Service