Fla. legislature approves bill to protect firefighters from cancer
The bill will help fund equipment, supplies and training to help reduce exposure to cancer-causing contaminants
---
Katie Kustura
The News-Journal, Daytona Beach, Fla.
TALLAHASSEE, Fla. — The Florida Legislature has passed a bill that aims to ensure firefighters have the necessary equipment to mitigate exposure to cancer-causing contaminants.
The Firefighter Cancer Decontamination Equipment Grant Program "shall provide financial assistance to help fire departments, including volunteer fire departments, procure equipment, supplies and educational training," according to the bill.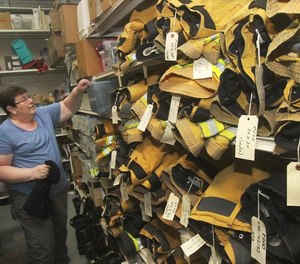 The program is a joint effort of Rep. Elizabeth Fetterhoff, R-DeLand, Sen. Aaron Bean, R-Nassau/Duval, and Jimmy Patronis, chief financial officer and fire marshal.
"These men and women protect us every day and this bill will help protect them from chemicals that cause cancer and other illnesses," Fetterhoff said.
Bean echoed that sentiment.
"Floridians depend on their local firefighters every day to come to their aid at a moment's notice," Bean said. "This bill ensures that we are coming to their aid every day to keep them safe from cancer-causing residue on their equipment."
To fund the program, $250,000 in recurring funds would be appropriated from the Insurance Regulatory Trust Fund.
Firefighters face a 14% increase in cancer-related deaths and a 9% increase in cancer diagnoses compared to the general U.S. population, according to the National Institute for Occupational Safety and Health.
A multi-year study by the National Institute for Occupational Safety and Health found firefighters, compared with nationwide cancer rates, are diagnosed more frequently with mostly digestive, oral, respiratory and urinary types of cancer. The study also found that firefighters were twice as likely to be diagnosed with testicular cancer and twice as likely to be diagnosed with malignant mesothelioma, a rare kind of cancer that's caused by exposure to asbestos.
In 2019, the Florida Legislature declared cancer an occupational hazard for firefighters and unanimously voted to ensure that those facing a cancer diagnosis are eligible for additional benefits.
DeLand Fire Chief Todd Allen said the latest proposed legislation complements what was put into law last year.
"It's going to bring money to a lot of departments that don't have the capability to afford the type of equipment that's going to reduce the exposure to our firefighters," Allen said.
Such equipment includes industrial-grade washers and dryers, which play an important part in keeping firefighters' bunker gear clean. The appliances typically cost between $5,000 to $10,000, which is why Allen was so grateful to receive a set at the end of January via a donation from DaVita Labs.
———
©2020 The News-Journal, Daytona Beach, Fla.
McClatchy-Tribune News Service