5 features to look for in an SCBA bracket
The ideal crew cab SCBA bracket should include a dependable locking mechanism that secures the cylinder while still allowing firefighters quick and easy operation
---
Sponsored by Ziamatic
By Margarita Birnbaum, FireRescue1 BrandFocus Staff
The ideal SCBA bracket does more than keep firefighters safe from injury inside the apparatus. It allows them to get in and out of the truck quickly in high-stress situations and when seconds count. It stands up dependably to the wear and tear of hard, constant everyday use for years of worry-free service.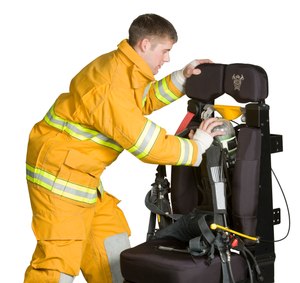 With these needs and more in mind, firefighting equipment manufacturer Ziamatic offers four durable and practical SCBA bracket options to fit the bill. These air cylinder brackets exceed NFPA standards and have even been tested by an independent third party for maximum safety and reliability. Here are five ways the SCBA brackets from Ziamatic meet the needs of today's firefighter:
1. HIGH SAFETY STANDARDS
Although NFPA 1901: Standard for Automotive Fire Apparatus is up for revision in 2021, the 2016 requirements for properly securing equipment in the fire apparatus crew compartment still apply, including:
Capable of containing the contents when a 9G force is applied in the longitudinal axis of the vehicle.
Capable of containing the contents when a 3G force is applied in any direction.
Capable of keeping the bracket-mounted equipment in the bracket when the equipment is subjected to those same forces.
Ziamatic's brackets exceed all of these NFPA standards, and each model has been rigorously tested by an independent third party to ensure its safety performance. (The company offers brackets for international fire departments as well.)
2. DEPENDABLE LOCKING MECHANISMS
Dependable locking mechanisms are a must to keep SCBA (or other tools) securely in place without pinching or otherwise damaging vital oxygen hoses, HUD wiring and other components.
The EZ-LOC and ROL-LOC brackets have a self-locking top clamp that can be engaged quickly and easily. With the EZ-LOC, simply press down on the top clamp. When using the ROL-LOC, press the SCBA against the horizontal rolling clamp.
The EZ-LOC has a patented ratcheting design that locks over a range of motion, so there is no struggling to achieve a lock or worry that the cylinder will pop free when it shouldn't. When it is time to go, the top clamp pops free at the pull of the release, ensuring that the firefighter is never suddenly stuck in their seat.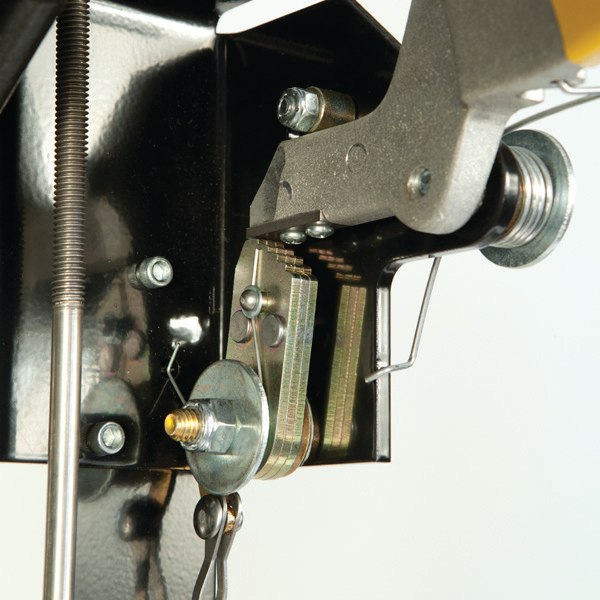 3. QUICK, EASY ACCESS
Firefighters can't waste precious seconds struggling to get their equipment loose on the scene. With smooth, easy-to-use brackets, firefighters know they can take their seats quickly and securely at the station and get out of the apparatus as soon as it stops.
Firefighters can use the EZ-LOC and ROL-LOC brackets with manual releases that can be placed where they prefer. The Hands-Free unit connects to the apparatus' electrical system, which unlocks the cylinder at the press of a button, when the door is opened or when the parking brake is engaged. With the QUIC-SWING SCBA Holder, firefighters can secure their compartment-mounted cylinders from a comfortable standing position, allowing them clean cab comfort.
"To lock the ROL-LOC, you simply press the cylinder through the rolling top clamp. To release, give a quick tug to the pull release knob or built-in seat release," said Ryan Glover, marketing manager for Ziamatic. "With the Electric Bracket, you simply stand up. And both of these brackets ship standard with a footplate guide to allow for quick, easy, no-look storing of the pack's air valve."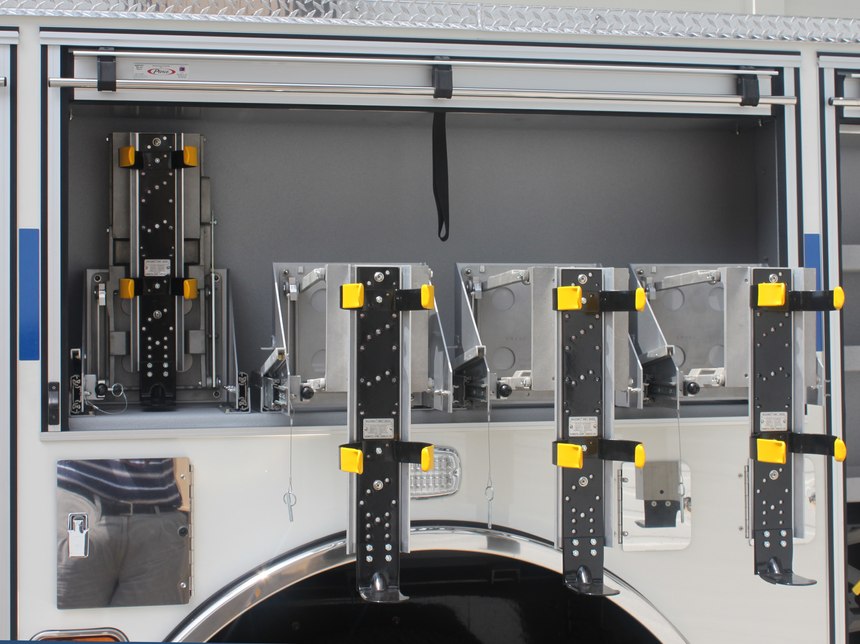 4. ADJUSTABLE FOOTPLATES AND BETTER FLEXIBILITY
Air cylinders are not one-size-fits-all. Brackets shouldn't be either. Look for options that will work properly with the equipment you have and that can be adjusted to secure cylinders of different sizes. Even cylinders of the same make and model can slightly differ in length. And should you decide to make a change down the line, say to thinner 5.5 models, you would not need to buy all new units but simply adjust the ones you have, saving money over time.
"Our brackets are fully adjustable for your department's specific make and model of air pack so you get a perfect fit each time," said Glover, "and they include an on-the-fly adjustment knob to tweak the fit as needed, as individual cylinders of the same make/model can vary in size."
The EZ-LOC, ROL-LOC, QUIC-LOCK and Hands-Free Electric brackets all feature adjustable footplates and backplates, and some models even allow for adjustment of the top clamp to help find that perfect fit.

They are flexible, as well. The brackets work with virtually any seat, old or new, allowing you to upgrade without the added cost of buying all new seats in order to do so. The EZ-LOC, ROL-LOC and QUIC-LOCK also work with most center pull releases for those who prefer a center pull to the traditional release knob.
For those thinking about going clean cab, the QUIC-SWING models that can be installed in either low or high compartments, swinging up or down to meet your needs.
5. KEEP COSTS DOWN
Because these Zico brackets fit both older and newer apparatus and have adjustable parts for a variety of cylinder sizes, they can keep costs down for budget-conscious fire departments looking for a more modern, strap-free bracket. The low-maintenance units are durable, reliable and will not pinch or otherwise damage the expensive HUD wiring included with newer air packs and masks.
"Our brackets offer a lot of options and a lot of value at a very reasonable price," said Glover. "You shouldn't need to compromise on safety or break the bank to keep your personnel properly equipped."
Visit Ziamatic for more information.
Read Next: How to safely transport SCBA on the fire apparatus

Request information from Ziamatic Corp. (ZICO)
Thank You!