Changing firefighting for a changing world: Equipping the future of fire (eBook)
How to shift fire department mindset to embrace innovation without losing tradition
---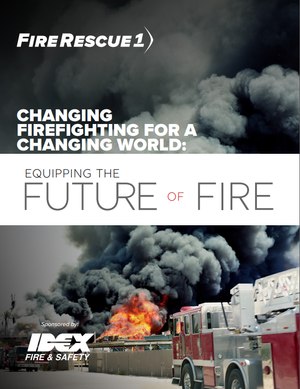 Sponsored by IDEX Fire & Safety
The oft-referenced saying that the fire service represents "hundreds of years of tradition unimpeded by progress" is a myth. From the first fire hoses that replaced the bucket brigade to today's TICs, drones, PASS devices and AI-driven fire prediction analytics, the fire service has made incredible progress in adopting new technologies and protocols that enable crews to battle fires more effectively and efficiently while improving firefighter safety.
Change is never easy – especially in an industry steeped in tradition – but change and tradition can coexist.
Download this eBook for insight into:
Why many fire departments are reluctant to embrace new technologies and protocols and how fire service leaders can drive positive change.
What to consider when vetting new technology.
Why adopting new technologies is a key requirement to attracting future generations to the fire service.
Complete the form below to download the eBook.
Changing firefighting for a changing world: Equipping the future of fire