Maximize apparatus storage with a rotating extrication tool holder
New 'Lazy Susan' design helps fire crews store more tools in tight spaces without sacrificing quick access
---
Sponsored by Ziamatic Corp.
By Molly Natchipolsky for FireRescue1 BrandFocus 
Minutes matter on any incident, especially when extrication is involved. Technical rescues require specific tools, which in turn require storage space on the apparatus. Precious time can be wasted if tools are difficult to access from a truck's compartment, hampering efforts to get the job done quickly, effectively and safely.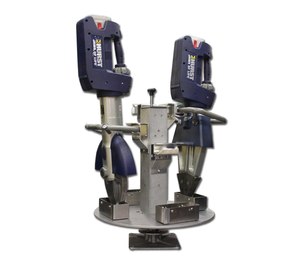 Apparatus space is at a premium for many crews, and the necessary tools may not fit neatly into the available compartments. Some departments may be tempted to store tools in the crew compartment for convenience, but any equipment should be secured with tool mounts for safety and to prevent damage. (See NFPA 1901 for details.)
To make the most of your apparatus storage, Ziamatic Corp., a manufacturer of fire and safety equipment since 1958, took inspiration from a 1970s kitchen standard – the "Lazy Susan" – to develop a new Multiple Extrication Tool Holder, Model QM-MEH-1. Based on conversations with firefighters, the new storage solution is designed to help you get the right tool right away on scene so you can get to work.
"We talked to firefighters around the country at trade shows, industry meetings and in their firehouses to learn more about the issues they're facing with their extrication equipment and how we can help solve those problems," said Ryan Glover, marketing manager with Ziamatic. "We kept hearing that having a place for everything and making sure tools are easy to access was a priority."
Designed for easy storage, access
The heavy-duty rotating base of the Multiple Extrication Tool Holder secures up to four extrication tools vertically within a limited space. The Lazy Susan-style turntable is controlled by a lifting center knob to rotate the platform to access the tool you need. It locks into place after each 90-degree rotation for safety.
"Because the tool holder is compact and rotates, it allows firefighters to mount these tools in a very compact space and access deeper parts of those tight compartments on a truck," explained Glover. "Being able to rotate around that center access is a much better use of space."
The adjustable mounting brackets accommodate most makes and models of cutter, spreader and combination tools, both hydraulic and electric. A second model, QM-MEH-1-R, provides a ram mount option that accommodates up to three extrication tools and one ram. Both models feature hooks and thick rubber straps to secure each tool and prevent shifting during transport.
Come check out one of our newest innovations debuting here at #FDIC the Multiple Extrication Tool Holder. Booth #1738!

Posted by Ziamatic Corp. (Zico) on Thursday, April 26, 2018
When seconds count
Every minute rescuers are delayed in delivering critically injured people to medical professionals and facilities increases the potential for fatalities, says Marc Bashoor, FireRescue1 executive editor. This makes quick access to the full range of your extrication tools imperative.
"Seconds count when we're talking about saving people's lives," Bashoor said. "The seconds we save by adapting and implementing improvements make quantifiable differences for the people we save."
Ziamatic is always eager to hear and learn from customer feedback, says Glover, and the company offers a 30-day trial of many of its products by request.
"Our goal is to develop new products to solve the issues firefighters face so they can continue to do their jobs at the highest level," he said.

Request information from Ziamatic Corp. (ZICO)
Thank You!