PRESS RELEASE
EZ Spanner Announces The First Mini Goat Colors
---
Now firefighters can personalize their Mini Goat Pocket Tool.
Los Angeles, CA – July 5, 2017 – EZ Spanner, the manufacturer of multi-functional fire hydrant and utility tools, has announced the latest addition to their Goat line of products, the Mini-Goat color series. This multi-purpose pocket tool is now available in red and blue to celebrate our American pride.
The Mini-Goat Pocket Tool is a multi-purpose hand tool made strong, but lightweight and slim to make a firefighter's job easier. It incorporates the patented EZ Spanner Goat Hook design, to tighten and loosen fittings and couplings of various shapes. It also features two gas shut off valves and a step hex wrench down the middle that really grips. "Our Mini Goats have become very popular amongst firefighters nationwide since they were launched earlier this year, but we kept getting feedback that there was a huge desire to personalize and to add color. So, we listened, and this is just the beginning of what's to come," said Dan Will, Firefighter and COO of Better Tools, LLC.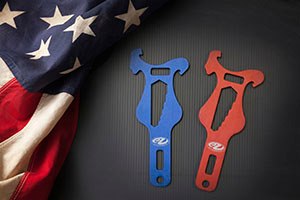 "Choosing red and blue was a no-brainer to us. We are All American guys, proud of the firefighting work we do, proud of our country and especially proud that our tools are made in the USA. So we wanted to honor that," said Dennis Garrison, Firefighter and Engineer of the Mini-Goat.
With the addition of the Mini Goat color series, firefighters can personalize their tools and have something that stands out in the field. The Mini Goat Color Series is an anodized version of the original aluminum Mini Goat. This lightweight and durable tool measures 8 7/8" long and 4 ¼" wide, and weighs 4oz. Visit the EZ Spanner product page for more information on the red and blue Mini-Goat.
About EZ Spanner:
EZ Spanner™ was created by a firefighter/engineer and is part of Better Tools, LLC's commitment to deliver the highest quality, most effective firefighting and utility tools available to assist fire departments and other municipal agencies in doing their jobs easier and faster while reducing injuries. The company offers a variety of tools, including the only customizable ratcheting fire hydrant and fittings wrench available. Visit the EZ Spanner website for more information.