PRESS RELEASE
Kochek makes all-in-one kit for high-rise building attack
---
PUTNAM, Conn. — Kochek Company, LLC has just introduced its new HiRise Kit, carefully designed to carry the basic tools and adapters needed to combat fire in hotel and high-rise buildings. Developed in response to requests from first responders for a convenient, grab-and-go bag, each Kochek HiRise Kit contains two spanner wrenches, one line-pressure gauge, one 09k valve, and one 2.5" elbow.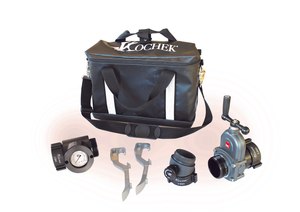 Kochek's HiRise Kit bag is constructed of heavy reinforced vinyl with a double heavy-duty waterproof reinforced bottom and measures 18"L x 12"H x 8"W. Extra wide nylon handle straps have a snap button closure which allows quick access even while wearing gloves. Its interior provides ample space for additional items such as wedges, adapters, door stops, door straps, rope and tools. When fully packed with the included items, the Kochek HiRise Kit Bag weighs 16.25 lb. Tool divider inserts attach with Velcro for easy removal to facilitate decontamination and cleaning. The bags are black and feature sewn-on reflectors for enhanced visibility. Reference new part number HIRISEKIT25-01-NH.
About Kochek
Headquartered in Putnam, CT, Kochek Company, is a leading producer of water movement products for fire, water works and irrigation markets throughout North America and abroad. In order to achieve its mission to manufacture and deliver the highest quality products at competitive prices, Kochek follows the guiding principals of lean manufacturing. More information about Kochek and the company's entire product line may be found at www.kochek.com.