PRESS RELEASE
Paratech introduces rescue guardian, advanced monitoring and alarm system for technical rescue
---
New Support System Designed for Rescue Professionals Leverages Remote Monitoring for Structural Collapse, Vehicle Stabilization and Trench Rescue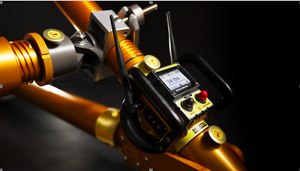 Frankfort, Ill. – Paratech, Inc., a leader in providing products to fire and rescue personnel around the world, today announced Rescue Guardian, the most advanced monitoring and alarm system for technical rescue on the market. Rescue Guardian (part no. 22-796670), was developed to monitor the safety of rescue personnel and on scene victims and remotely monitors and alerts users of any change in status - load, vibration and incline - on their smart device. Used as a stand-alone monitoring system or paired with Paratech's complementary Remote Monitoring App for Android and iOS devices, users can monitor up to 10 Rescue Guardian systems on a single device remotely.
Rescue Guardian was designed for structural collapse, but is also an invaluable asset for other rescue incidents including vehicle stabilization and trench rescues. The system utilizes a warning system that includes six high powered red LEDs, a high decibel auditory alarm, and notifications via Bluetooth. Each system provides up to one week battery life under continuous usage in low-power monitoring mode, running on replaceable lithium-ion batteries.
"In a technical rescue there is no room for error, and search and rescue teams need the most reliable tools at their disposal," said Nigel Letherby, Project Coordinator & Paratech Instructor, Paratech, Inc. "Rescue Guardian gives rescue professionals the confidence needed to efficiently and effectively complete their mission."
Rescue Guardian is the newest in a suite of Paratech products designed by rescue professionals for rescue professionals. Other industry picks include the AcmeThread StrutDriver, ARFF Grab and Go Kit, Heavy Vehicle Extrication Kit (HVEK), MultiForce Air Lifting Bag, Structural Shoring, and SPF Hooligan.
To learn more about Rescue Guardian, visit paratech.com/future.
About Paratech
For more than 50 years, Paratech has combined innovative design with cutting edge technology to provide the highest quality and most user-friendly tools available for rescue and beyond. From the world's most advanced collapse support solutions to some of the world's strongest forcible entry tools, Paratech makes technical rescue operations simpler, safer, and more productive. For more information, visit paratech.com.

Request more info from Paratech Inc.
Thank You!