PRESS RELEASE
Super Vac releases all new battery-powered chainsaw conversion kit for fire industry
---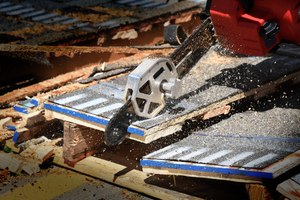 FORT COLLINS, Colo. — Super Vac has released an all-new battery-powered chainsaw conversion kit that turns out-of-the-box wood-cutting Makita, DeWalt or Milwaukee battery-powered chainsaws into heavy-duty rescue saws for the fire industry.
These battery-powered chainsaws are usually only ideal for cutting wood, but this kit equips the saw with a carbide-tipped chain designed to cut through roof materials, asphalt shingles and light metal —all with the ease on the firefighter and without damaging the chain. The chain easily sharpens with diamond equipment.
The kit also features a custom bar that allows the wider chain gauge to operate with added room, putting less strain on the saw for repeat, heavy use. The flame-hardened bar is slotted to work with Super Vac's Quick Silver Depth Gauge. This aluminum gauge prevents the blade from cutting too deep during roof ventilation.
The kit is compatible with Makita XCU07, XCU04 and XCU03 chainsaws; DeWalt DCCS670B and DCCS670X1 chainsaws; and Milwaukee 2727-20 and 2727-21HD chainsaws. Components can be ordered individually, or to take advantage of special discounted pricing, the chain, bar and gauge can be ordered together as a complete kit. To request pricing, complete the form at supervac.com/saws/battery-chain-saw-conversion-kit.
With this kit, Super Vac continues to grow its battery lineup, which includes battery fans compatible with DeWalt or Milwaukee batteries and available in 16" or 18" models. Super Vac also offers a batterypowered aircraft brake cooling fan. The kit also joins Super Vac's existing and reputable lineup of rescue saws, the SVC3 gas-powered chainsaw and the SVC4 gas-powered cutoff saw.
"When we first introduced our battery fan lineup, we wanted to create a platform that would work with department's other battery-operated tools. We did that, and it's been exciting to see how departments really do appreciate this compatibility, so we wanted to carry that into our saw lineup," Super Vac Owner Roger Weinmeister said. "Overall, we're glad to be partnering with some of the best in the battery industry and in rescue tools to deliver a cohesive battery arsenal."
For more information (and videos of these saws in action), visit supervac.com/saws/battery-chain sawconversion-kit.
About Super Vac
Super Vac is the world's leading manufacturer in the emergency ventilation products. A one-stop shop for all things ventilation, Super Vac equips crews with a versatile array of only the toughest solutions, including the industry's largest lineup of PPV fans, spanning from 8- to 80-inch blades, as well as smoke ejectors, available in 12-, 16-, 20- and 24-inch blades. Super Vac also manufactures rescue saws, rehab misters and other necessities, including the patented Smoke BlockAid for smoke mitigation.

Request more info from Super Vac
Thank You!