PRESS RELEASE
Super Vac to showcase robotic misting turbine at FDIC international 2022 (Booth #3417)
---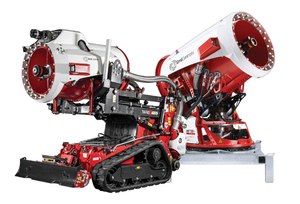 FORT COLLINS, Colo. - Super Vac, one of the leading manufacturers in fire ventilation equipment, will showcase an unmanned misting turbine by EmiControls in its booth at FDIC International 2022 (Booth #3417).
The robotic fan features a water mist system that atomizes water and extinguishing foam into a fine mist before propelling it up to 300 feet with Quadrijet nozzles and turbine propeller. The fan can be maneuvered an additional 1,000 feet toward the hazard thanks to advance remote controls, making these turbines the ultimate unmanned firefighting fans for chemical operations, tunnel systems, subway shafts, recycling plants and urban areas.
The fan's water misting system includes 40 turbine-ring Quadrijet nozzles, which provides up to 400 gpm of water, and a powerful turbine propeller, which combines 25kW power with a polymer blade to deliver 35,000 cfm. An integrated Akron nozzle (or brand of choice) produces up to 1,200 gpm that can be propelled up to 300 ft. with remote adjustable pattern.
In addition to its misting capabilities, the turbine is also highly maneuverable. The robot can tilt 19-degrees down and 43-degrees up, while the turntable features 362 degrees of rotation. The design can also fit into parking garages as low as 80" while having the ability to raise an additional 67". This large industrial fan can be mounted on tracks, trailer or truck. When mounted to the crawler tracks, the robotic fan can navigate harsh terrain, 30-degree inclines and 15-degree traverses with the mobile unit's 71HP Kubota diesel engine.
A number of optional features can be added to the firefighting robot, including forklift, railway wheels, camera kit, remote winch, air duct hose, ground-sweep nozzles and web-based GPS.
"We're excited to partner with EmiControls so that we could bring this firefighting robot to the United States market," Super Vac Preseident Roger Weinmeister said. "This fan is a great addition to our large-scale PPV lineup, which includes 30", 48" and 80" industrial fans, all designed for ventilating large structures. At Super Vac, we know every ventilation scenario is different, so we pride ourselves in this addition because we know it's important to offer a wide variety of tools to get the job done."
For more information on Super Vac's battery fans, visit bit.ly/unmanned-turbines.
About Super Vac
Super Vac is the world's leading manufacturer in the emergency ventilation products. A one- stop shop for all things ventilation, Super Vac equips crews with a versatile array of only the toughest solutions, including the industry's largest lineup of PPV fans, spanning from 8- to 80- inch blades, as well as smoke ejectors, available in 12-, 16-, 20- and 24-inch blades. Super Vac also manufactures rescue saws, rehab misters and other necessities, including the patented Smoke BlockAid for smoke mitigation. Learn more at supervac.com.

Request more info from Super Vac
Thank You!