PRESS RELEASE
Transparent fire protection could be an immense aid to first responders
---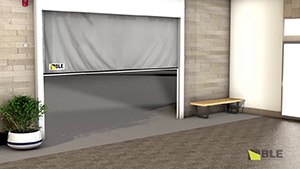 Enhancing a fire curtain with a transparent vision panel should be considered in an attempt to assist first responders when a fire breaks out, says a leading fire expert.
The latest innovation in passive fire protection is the use of vision panels. In-built fire protection such as fire doors and curtains that have a clear, window-like panel, enable first responders to see flames on the other side. This is extremely beneficial for first responders according to passive smoke and fire containment specialist, BLE Smoke & Fire Curtains.
Nigel Ward, Managing Director at BLE, said "Vision panels could save precious time by allowing individuals to see through the curtain like looking through a window. In an emergency, time is crucial and fire protection measures should help make first responders more efficient in their role and not hinder the evacuation process."
Fire curtains are key example of compartmentation, which is fundamental for maintaining fire safety, and preventing the spread of fire if/when one breaks out. Choosing a fire curtain with a vision panel allows building occupants and first responders to identify risk in different sections of a building, even once the curtain has been deployed. BLE's ResQ-Window, for example, permits first responders to see through the curtain to see what is on the other side.
NFPA 80 is an important standard, providing comprehensive guidance on the specification, installation, and ongoing maintenance of fire curtains. UL10D, meanwhile, is the key testing certification to look for in terms of compliance and product integrity. Both of these standards are worthy of careful consideration from fire and security specialists looking to take their fire safety specification to the next level.
Nigel concluded: "As a fully compliant, translucent fireproof panel, the ResQ-Window is a concept capable of making a massive difference in areas of a building which need to be assessed prior to entry. A fire curtain with a vision panel is perfect for lift openings and lobbies, as well as escape routes incorporating doorways and corridors."
For more information on BLE, visit www.ble-smokeandfirecurtains.com.