PRESS RELEASE
Ziamatic Corp. expands SURE-GRIP tool mount lineup
---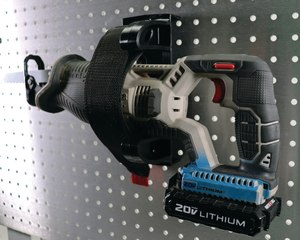 YARDLEY, Pa. — Ziamatic Corp. (Zico), an international leader in tool mounting solutions, has announced an exciting new addition to their popular SURE-GRIP line of multipurpose mounts — the SURE-GRIP XL. Models SG-VM-XL and SG-VM-XLS are a bigger, better, faster, and stronger way to store 2" to 4" diameter tools and equipment and the ideal choice for struts, rams, reciprocating saws, extrication tool grips, and so much more.
Why are more departments than ever before installing SURE-GRIP Tool Mounts? Because the dependable, all-weather hook & loop straps hug the curves of each tool for a more precise, more "true" grip, regardless of handle shape. Because operation is simple — just release the strap and pull the tool free, quick and easy. And because they are designed with a smaller overall footprint, potentially allowing for more tools to be mounted in the same space and increasing overall apparatus carrying capacity.
"Departments have been very supportive of our unique SURE-GRIP design" said Keith Creely, Ziamatic Sales Manager. "So we're excited to offer them that same style of versatile, non-corrosive mounting for larger profile equipment, like sets of irons and Sawzalls. They can mix and match the two mount sizes to give their compartments a uniform look and standard operating procedure, all at the most cost-effective price."
Available now. Try a pair for 30 days. For more information please call 1-800-711-FIRE or visit www.ziamatic.com.
About Ziamatic Corp.
Zico has been providing the men and women of the fire services industry with quality products and dependable service for over 50 years. The company stands behind all of its products, from simple hand tools and wheel chocs to complex ladder racks and SCBA brackets - so when you see the name ZICO or ZIAMATIC, be assured it is of top quality, reasonably priced, and backed by thorough field testing. If you want quality, you want Zico.

Request more info from Ziamatic Corp. (ZICO)
Thank You!