PRESS RELEASE
Ziamatic Corp. launches quadcopter drone sweepstakes
---
YARDLEY, Pa. — This year Zico is bringing the booth to you!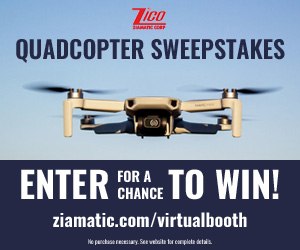 In lieu of a traditional convention schedule, Ziamatic Corp. has just launched an exciting Virtual Booth Experience and Quadcopter Sweepstakes, running May 1-15, 2020 at https://www.ziamatic.com/virtualbooth.
Don't miss the opportunity to browse the company's latest product innovations and enter for a chance to win some incredible prizes. One lucky grand prize winner will take home a state-of-the-art DJI Mavic Mini quadcopter drone, complete with a built-in HD Flycam.
Twelve runner up winners will snag exclusive Zico backpacks, perfect for a commute to work, a trip to class, or an adventure into the great outdoors. No purchase is necessary to enter or win. Visit the site for complete details.
"Conventions are just a really fun time. They're a chance to talk shop with friends we may not get to see very often and show them all of the cool new things we've been working on," said Ryan Glover, Ziamatic Marketing Manager. "Obviously that isn't possible this year, but we still wanted to try and capture a little bit of that booth magic for people. That experience. And what's more fun than prizes and giveaways?"
Those giveaways continue on @Ziamatic social media. Be sure to like them on Facebook and follow them on Twitter to take part in their "5 Days of Giveaways" happening May 11-15, 2020. Daily prizes will include everything from branded apparel to SURE-GRIP Tool Mounts and other Zico fire and safety equipment.
About Ziamatic Corp.
For over 50 years Ziamatic Corp. (Zico) has provided first responders with the tools and equipment they need to make every day safer, easier, and more efficient. With every new design, Zico strives to meet the ever-evolving demands of the fire service with fresh forward thinking and cutting edge development. For more information, please call 1-800-711-FIRE or visit www.ziamatic.com.

Request more info from Ziamatic Corp. (ZICO)
Thank You!