PRESS RELEASE
ZICO provides top-tier scene light security
---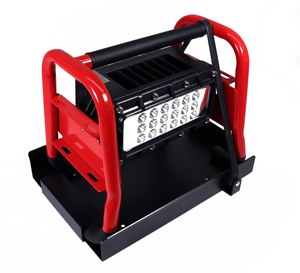 YARDLEY, Pa. – Prevent stackable scene lights from tilting, shifting, and falling during transport with the all-new Stackable Scene Light Bracket from Zico. A single bracket can safely secure multiple lights.
Model QM-SLB-2 features a flexible, rubber draw strap that gently but firmly holds the light(s) against the baseplate and a durable steel guard to minimize bouncing on rough terrain, curbs, and railroad tracks. The sleek, compact design requires minimal additional compartment space, making it an efficient and effective storage solution.
"It's a great way to protect your investment," said Ryan Glover, Ziamatic Marketing Manager. "Scene lights can be expensive. You don't want them tipping over and falling out when you open the roll-up door. You want your lights to last. You want to take care of them. Our new Stackable Scene Light Bracket can help you do that." Available now. For more information please call 1-800-711-FIRE or visit www.ziamatic.com.
For over 50 years Ziamatic Corp. (Zico) has provided first responders with the tools and equipment they need to make every day safer, easier, and more efficient. With every new design, Zico strives to meet the ever-evolving demands of the fire service with fresh forward thinking and cutting edge development. For more information, please call 1-800-711-FIRE or visit www.ziamatic.com.

Request more info from Ziamatic Corp. (ZICO)
Thank You!