Safety, comfort come together in firehouse recliners
Health risks are on firefighters' minds – these chairs mitigate them without sacrificing durability or luxury
---
Sponsored by American Firehouse Furniture
By John Erich, FireRescue1 BrandFocus Staff
Fire service leaders have learned – sometimes the hard way – that the dangers of their jobs don't necessarily end on the fireground, or even when they return their apparatus to its bay. Carcinogens encountered on scenes can ride along back to firehouses on uniforms and equipment and continue to pose health risks long after firefighters have wound down and relaxed after calls. These potential cancer-causing substances include the smoke and toxins produced by combustion, and they contribute to a risk of dying from cancer that is 14% higher for firefighters than for the general population.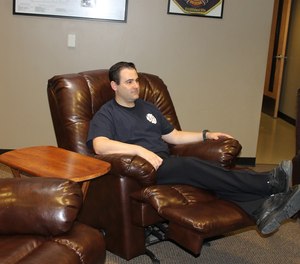 As this risk has been identified and documented, the fire service has begun taking measures to counter it, including requirements for immediately removing and washing soiled clothing and decontaminating equipment. Firehouse design also began changing to accommodate this.
Those are all positive efforts, but advocates may have missed one thing: What about the furniture?
The big, comfortable recliners used to furnish most fire stations may be a favorite of firefighters, but they can pose dangers both outside and in-.
Externally, "a lot of recliners are cloth," said Randall Bradley, a veteran California fire chief and one of three generations of firefighters in his family. "Sometimes departments don't like to spend public tax dollars on leather, so everything's cloth. But that can't be disinfected."
Internally, chemicals used to prevent the foam inside chairs from burning can, ironically, themselves act as carcinogens – imposing-sounding substances like antimony trioxide, chlorinated tris, tetrabromobisphenol A and tris (2-carboxyethyl) phosphate (TCEP). The danger of these is such that in 2020, California banned the sale and distribution of furniture with more than 0.1% of such chemicals.
For chiefs and firefighters concerned about their cancer risk – and simply interested in durable and comfortable chairs in which to rest their teams' weary bones – Bradley and his family offer a solution: Fire Tough recliners from their company, American Firehouse Furniture.
'Something that could withstand a firefighter'
That safety aspect is one of several key things to know about the company and its products. Another is the Bradley family's experience: Randall, his father and his son have a combined 90 years of service in firefighting. They've spent much of their lives in firehouses and know both what firefighters want and what can happen to furniture in their stations.
"Recliners are traditional furniture items for firefighters – they've culturally become part of fire stations," said Bradley. "But firefighters can just destroy recliners. Our department initially bought commercially available recliners because they had five-year warranties, but they didn't hold up, and companies voided the warranties because they said a fire station wasn't residential use, it was commercial use."
It's true that station dayrooms can be difficult places for furniture. The providers plopping down in their favorite recliners can be large, strong and heavy. There can be a bit of horseplay as they blow off the steam of tense life-and-death calls. Things are dropped and spilled. On cheaper chairs, reclining mechanisms can break. The knives and tools used on the job, if carried into living spaces, have edges that can slice and puncture fabric.
Bradley tried hiring a company to come in and fix his recliners, but that was a major expense for what would likely be a temporary solution. "So I got this idea," he said. "We had to build something that could withstand a firefighter."
They created American Firehouse Furniture in 2016, looked at various manufacturing partners and selected a small builder in Mississippi – keeping things American was a priority – that had good experience and could create their chairs to order. They wanted a covering material that was strong but easily disinfected, and guts free of those cancer-causing chemicals.
"It's a bit counterintuitive, but there was a big push by the fire service to eliminate those retardants from furniture foam," said Bradley. "When we put this thing together, we decided we had to have those carcinogens eliminated. We don't want those things. There are lots of studies, and firefighter cancer can be tied right back to those foams."
To cover the chairs, they decided on industrial-grade bonded leather – a material that is not only easily cleaned but has significantly improved in quality in recent years. The newer, higher-grade versions can remain intact and attractive for more than a decade if well cared for. The version used in Fire Tough chairs is tested to the ASTM's D4157 standard for abrasion resistance.
Care isn't hard: Basic cleaning requires just a simple wipe-down with a damp cloth, and for disinfection a 1:100 bleach solution, wiped off in five minutes. Commercial protectants aren't needed, and soap isn't commonly required unless there's significant soiling. These measures are compatible with CDC environmental cleaning and disinfection recommendations and guidance from the NFPA's 1581 standard for fire department infection-control programs.
Bonded leather also has a smoother texture than actual leather, is more comfortable against the skin and can come in multiple colors. Fire Tough recliners come in five. Now in more than 2,000 fire and EMS stations, they also come in three sizes, with a modern, stylish look and free shipping with purchases of three or more. All chairs come with a limited five-year warranty.
American Firehouse Furniture also offers a range of other furniture for fire and EMS stations, including beds and mattresses, tables and desks, cabinets and shelves, and Fire Tough dorm furniture.
Part of the solution
Back in 1975, California developed the initial burn standard that prompted furniture manufacturers to protect their foam with flame-retardant chemicals. Due to the size of the state's market, that drove industrywide change. But when we later learned those same chemicals not only weren't effective at reducing fires but may themselves actually cause harm (beyond cancer, they may be linked to endocrine disruptions and neurotoxic effects), it's been proactive fire-service leaders that helped drive a pivot away.
"There's been this big push toward greater health and safety from the unions and the fire chiefs' organizations," said Bradley. "We do think we're a little part of that solution."
Other providers of firehouse furniture may repackage standard recliners with cloth construction and embroidered logo patches that can't be disinfected. And while much furniture built in the U.S. after 2021 must comply with California's 2013 update of its original 1975 edict – which defined a standard easier to meet without retardants and has now been applied nationally by the Consumer Product Safety Commission – the 0.1% threshold added in 2020 remains limited to California.
Firefighters in the other 49 states deserve the same health benefits.
"My dad died a couple of years ago from major health problems associated with his career in the fire service," Bradley said. "You know, we want a successful business, but we also want to make a difference and offer a product that's safe. We think we have a good product, and we stand by it."
For more information, visit American Firehouse Furniture. 

Request information from American Firehouse Furniture
Thank You!