FirstNet: Fire service connectivity in action
This special edition offer insights into what fire chiefs need to know about adopting FirstNet, including budget implications, training, mutual aid and other essential information
---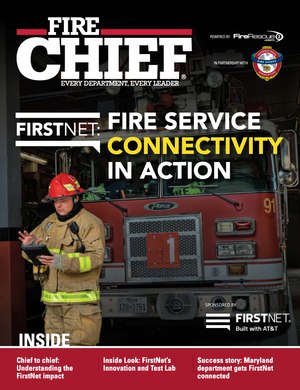 Connectivity is one of the most essential elements of our work. We rarely operate in a vacuum, devoid of contact with fellow firefighters. We must be connected and communicating during nearly every task we perform on nearly every call we take, from the common structure fire to the major incident response. 
This special edition addresses fire service communications and connectivity by offering insights into what fire chiefs need to know about adopting FirstNet built with AT&T. It includes budget implications, training, mutual aid and other essential information to help agencies determine when is the right time to make the switch. 
This issue includes: 
What chiefs need to know about implementing FirstNet
A look into FirstNet's Innovation and Test Lab
FirstNet success stories from fire agencies
As FirstNet continues to grow, more and more departments will have access to boosted communications, improved interoperability and enhanced coordination among responders.