PRESS RELEASE
T-Mobile prepares for extreme weather and natural disasters with 50% more heavy-duty disaster response satellite vehicles
---
With more backup power at more sites than ever before and over 50% more heavy-duty disaster response satellite vehicles, the Un-carrier is prepared to support customers and communities when disasters strike

BELLEVUE, Wash. - Because connectivity is critical during and after disasters, T-Mobile is always ready. Summer can bring extreme weather and natural disasters like hurricanes and wildfires, but the Un-carrier's emergency response teams have been preparing year-round to support customers, first responders and communities to minimize network impact and increase recovery speed by:
Increasing investments in network hardening by more than 30% over the past two years to reduce service interruptions, adding fixed backup generators at critical sites nationwide.
Adding 50% more heavy-duty disaster response satellite vehicles to its ready-to-respond fleet.
Expanding its community support fleet with new, fully loaded RV command centers and heavy-duty Wi-Fi vehicles.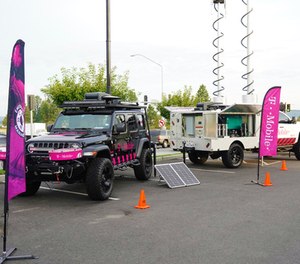 "T-Mobile's teams have worked year-round to ensure our leading 5G network is available when the customers and communities we serve need it most, bolstering redundancy and hardening our footprint as we maximize coverage and capacity nationwide," said Ulf Ewaldsson, president, technology at T-Mobile. "Following disasters our network and community support teams will also be ready to deploy cutting-edge response assets – vehicles, 5G drones, command centers and other tools – that will deliver connectivity, Wi-Fi and other supplies to local residents and first responders."
Hardening the Nation's Largest and Fastest 5G Network
Since 2021, T-Mobile has made strategic investments to increase its network hardening footprint by more than 30%, placing fixed backup generators at even more towers, cell sites, network switches, data centers and other critical sites nationwide. These investments also enable the Un-carrier's emergency response teams to leverage the network in innovative ways. For example, technicians and engineers who monitor weather in the field can remotely adjust sites in real-time to concentrate the signal in impacted areas, providing first responders with more bandwidth for data-intensive activities such as orchestrating rescues. This saves critical time and has minimal impact on customers due to T-Mobile's network resiliency.
First responders and emergency officials with Wireless Priority Service (WPS) also automatically get priority access and preemption for voice and priority access for data on T-Mobile's network at no cost. When seconds matter during times of emergency or network congestion, WPS moves critical communications to the front of the line.
More Assets than Ever Before
T-Mobile is increasing its inventory of heavy-duty network disaster response vehicles—Satellite Cell-On-Wheels (SatCOWs) and Satellite Cell-On-Light-Trucks (SatCOLTs)—by over 50%. And this year, the Un-carrier is also rolling out new Class Super C RV Command Centers for on-site operations management and new heavy-duty community support trucks that provide device charging, charging supplies and Wi-Fi for anyone who needs it.
The Un-carrier's fleet already includes Network Emergency Operation Centers, Rough Terrain Dual Mast COLTs (which provide coverage for up to two miles, two-way radio communications, Wi-Fi and emergency lighting), Jeep COLTs, network and community Command Centers, Wi-Fi charging trailers, tow response vehicles and more.
The emergency response team also stages agile solutions like COWs, VSATs (small satellite terminals) and microwave/long-range microwave kits to quickly restore service in impacted areas.
5G Innovated Emergency Response
The Un-carrier is looking ahead and innovating on the next wave of natural disaster prevention and response technology. Through an award-winning partnership, Pano AI leverages T-Mobile's 5G network, ultra-high-definition cameras and a proprietary AI platform to scan and locate early-stage wildfires. With this technology, utility companies, fire authorities, forestry companies and private landowners can detect and respond to wildfires in rural areas faster than ever before.
Earlier this month, T-Mobile and Valmont announced the longest ever beyond visual line of site (BVLOS) drone flight for infrastructure inspection—77 miles—enabled by T-Mobile's 5G network. During the flight, Valmont demonstrated the capability of a 5G-enabled technology to preemptively monitor infrastructure such as power lines, railroads and bridges in Texas with greater accuracy, helping to prevent malfunctions and infrastructure-related emergencies.
When disasters strike, T-Mobile deploys cutting-edge 5G Search and Rescue (SAR) drones and tethered drones to aid in disaster response efforts. SAR drones can fly up to 75 miles per mission to provide coverage and use infrared and thermal imaging to locate people, especially in unfavorable conditions. And with a 55-pound payload capacity, they can also deliver lifesaving supplies. Connected to power and backhaul resources, tethered drones can fly up to 400 feet to provide nearly continuously coverage to surrounding areas.
T-Mobile is Prepared – Now It's Your Turn!
Here's some steps that customers can take prepare for disasters ahead of time.
For more information on how T-Mobile prepares for and responds to disasters, visit T-Mobile's Emergency Response Hub.
Follow T-Mobile's Official Twitter Newsroom @TMobileNews to stay up to date with the latest company news.
See 5G device, coverage, & access details at T-Mobile.com.
About T-Mobile
T-Mobile US, Inc. (NASDAQ: TMUS) is America's supercharged Un-carrier, delivering an advanced 4G LTE and transformative nationwide 5G network that will offer reliable connectivity for all. T-Mobile's customers benefit from its unmatched combination of value and quality, unwavering obsession with offering them the best possible service experience and undisputable drive for disruption that creates competition and innovation in wireless and beyond. Based in Bellevue, Wash., T-Mobile provides services through its subsidiaries and operates its flagship brands, T-Mobile, Metro by T-Mobile and Sprint. For more information please visit: https://www.t-mobile.com
Request more info from T-Mobile
Thank You!