A new way of running incident operations
Veteran firefighter creates customizable incident management software
---
By Brian Ward
FireRescue1 Contributor
A new incident management system created by a Georgia firefighter hit the market late last year. LFG Command Systems was started by CEO Alex Griffin from Lilburn, Georgia, based on his own experiences as a firefighter with incident management. The premise of the program is that it is not just a one size fits all but that the program can be tailored to meet a department's specific needs.
In addition to being used for fireground command, the system has the ability to provide for EMS, mass casualty, law enforcement and SWAT team deployments.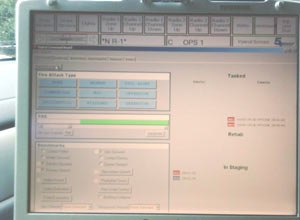 The program provides a straight forward user-friendly format that allows for real time command control, event logs of benchmarks and a documentation area to place specific details about the incident. The event log has the capability of automatically saving up to 100 time stamped events.
The ability of LFG to include such items as accountability applications, personnel management and the ability to be integrated with computer aided dispatch has greatly enhanced their system. The flexibility of the program is quite impressive; one recent department that invested in this program had LFG modify the system in order for them to perform daily roster assignments.
Additionally, this program has found its way for use by volunteer and career departments through its personnel management applications. Regardless of the type of department, this program can assist fire fighters in tracking individuals and incident objectives from the touch of a screen on the fireground or from the command vehicle.
Some of the other features of this program include the ability to physically draw the structure on the laptop, label sides and place crews on a blueprint of the incident. As the incident commander, you find an unfamiliar situation and find the need to change benchmarks or the need for reminders of benchmarks, this program has it integrated.
In addition to all of the above features, it doesn't just work on your department. LFG has the ability to input outside agencies in such cases as mutual aid incidents.
Outside of incident operations this program can be used to track training, whether you are using Tactical Decision Games or computer simulated scenarios. Many departments need a way to identify incident objectives in order to grade the students. LFG can be used in two formats to accomplish this. The student or the instructor can use the system to identify benchmarks that are time stamped and can be recalled at a later time. All of the events and notes can be exported and printed for further referencing.
If you are looking for an incident management system that can be used in a training format, this is a program to consider. The adaptability of LFG, regardless of the size or type of department you may belong to, brings about a few points to consider as well. LFG Command Systems can be found at www.LFGCommandSystems.com. To see a video of the system being used for scenario based training visit: Fire Command Simulation on Flashover TV.
Brian Ward is a firefighter/acting officer with Gwinnett County (GA) Fire Department and Georgia Smoke Diver #741. He is a past training officer and chairman of the Metro Atlanta Training Officers. He currently serves as the International Society of Fire Service Instructors Membership Task Force Co-Chair. He was the recent recipient of the National Seal of Excellence and Top 20 CTBS Instructor from NFFF/EGH. He has an associate's degree in fire science and is completing his bachelor's degree in Fire and Safety Engineering Technology. He is a frequent speaker and author for several fire service publications. He is the founder of FireServiceSLT.com.