Firefighter develops rehab packets for on-scene nutrition
The ready-to-consume packets contain a sports drink, water, fruit puree, snack bar, branch chain amino acid chews and an anti-bacterial hand wipe
---
Fire rehab is a vital firefighter safety component on the fireground.
It provides firefighters and other responders with resources such as rehydration, on-scene nutrition, treatment for smoke inhalation and prevention of life-threatening conditions.
Aaron Kammann, founder of Knuckle Dragger Fitness, is a certified strength and conditioning specialist, is a Michigan firefighter and EMT and also served in the U.S. Marine Corps.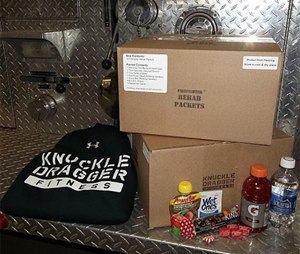 After seeing many other firefighters "hit a wall" while on scene, Kammann realized most of his colleagues were not getting proper on-scene nutrition. So he came up with a way to eliminate this problem.
We caught up with him to learn more about his company.
What's in each box and how much does it cost?
Each box, which costs $79.99, contains 10 individually packaged Firefighter Rehab Packets and can be conveniently stored in any apparatus or vehicle. It contains a sports drink, water, fruit puree, snack bar, branch chain amino acid chews and an anti-bacterial hand wipe to first wash your hands and face.
Packets can be consumed in their entirety or even just snacked on during a bottle change. We have also seen them used during early morning calls when breakfast could not be eaten.
What is the shelf life and does it have to be refrigerated?
The shelf life is generally a year from the package date, which is stamped on the boxes and listed online before ordering.
The fruit puree has the shortest 'best by' range. If the packets are not used as the 'best by' date approaches, I encourage departments to simply break them apart and use individual products as snacks around the firehouse. 
There's no reason any of the products included should be wasted or unused. This is also true while being consumed on-scene. There can sometimes be unwanted or unused products within each packet that should be returned to the box for another firefighter to consume at that time or at a future incident.
Why do firefighters need this?
Most firefighters can recall times where they've "hit the wall" on-scene and fatigue takes over. This drained feeling is the result of our bodies burning through the available muscle glycogen and even glycogen stored in the liver, which we utilize as fuel to perform many fireground tasks. At this point, you are hypoglycemic, sluggish and likely to make poor decisions.
The intent of Firefighter Rehab Packets is to prevent hitting that wall and to maximize performance by simply giving your body what it needs. It's not always known when or in what situation they will be used, but it's important that something be immediately available to firefighters when needed.
How did your firefighting background contribute?
It came from my experience as a firefighter and my understanding of performance as a certified strength and conditioning specialist.
As a firefighter, I have been on those prolonged scenes and hit that wall. Sometimes food was delivered and other times food was not available. The times when food was delivered, it was often what was easiest, accessible and most convenient; usually fast food, donuts, or pizza. Although I have always appreciated any kind of food on-scene, it almost always lacks nutritional substance.
After numerous incidents like that, I realized that the only solution is for appropriate foods to be stocked on the apparatus and ready at any given time. I took this simple concept and created Firefighter Rehab Packets.
The "ah-ha" moment for many people is when I compare firefighting to professional athletes. It's no secret that professional athletes do not eat fast food at half-time. Why then, do we as firefighters eat it on-scene when the stakes are so much higher for us and those we're helping?
How did that idea turn into a product?
After the initial idea and realization, I took to the books and researched. It became an obsession to create a product to fill what I considered a very serious and dangerous void in the fire-service.
I created a set of nutritional guidelines and requirements that I felt best fit those needs. After additional research and some trial and error, I found the ideal combination of products to meet those requirements. I selected specific products based on ingredients and the rates at which I expected them to metabolize. From there, I started packaging and sending out free boxes to local fire departments willing to offer a review.
What has been the response from fellow firefighters? Other companies?
Firefighter Rehab Packets have been on the market a very short time and already the feedback has been overwhelmingly positive, especially by many rural departments.
While delivering to my first customer, I was actually thanked for creating the packets because nearby resources were so scarce. I have even been told by another fire chief that he'd been waiting his entire career for this product. It is extremely rewarding to see the packets being implemented and used immediately.
How do you prove results? And are they guaranteed?
There are countless studies and publications demonstrating the importance of proper hydration and nutrition before, during and after physically demanding activities.
I simply created a means to achieve that in a way specific to the needs of firefighting. I welcome and encourage feedback from all departments and firefighters that use Firefighter Rehab Packets and will always strive to improve them. Safety must start with the well-being of the firefighters and that is the purpose of Firefighter Rehab Packets.
Any plans to distribute?
We currently distribute directly online and via mail ordering. We are always looking at options to expand distribution.
Any fun facts about your company?
Before creating Firefighter Rehab Packets, Knuckle Dragger Fitness was founded as a tactical strength and conditioning company that offers specialized training and consulting services.