L.A. firefighter develops craft brew line
This premium line of micro-brewed beers was created by and for firefighters
---
When Los Angeles-based firefighter-medic Rob Nowaczyk was working on a brush fire, an idea sparked in his head. But it wasn't because of the flames, it was because of thirst.
Nowaczyk was dreaming of an ice-cold beer.
"I turned to my partner and said, 'Why don't we make our own?'" he said, still an active firefighter but now founder of Fireman's Brew.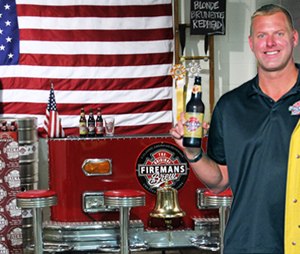 From that point on, he set out to create great-tasting handcrafted beers made by real firefighters, while giving back to the firefighter community through charitable organizations such as the National Fallen Firefighters Foundation.
We caught up with him to learn more about his company.
Can you give me a little background detail about Fireman's Brew?
Fireman's Brew is a premium line of micro-brewed beers created by two active duty Los Angeles-based firefighters. Since its founding just a few short years ago, it has become one of the fastest growing craft beer brands in the U.S. Created using only the finest of all-natural ingredients, our three handcrafted beers — including a Pilsner-style Lager, an Amber Ale and a traditional German Doublebock — have each won awards from coast-to-coast.
How did your idea turn into a product?
With a lot of hard work, firefighter ingenuity and determination! I had homebrewed as a hobby, so when we came up with the idea for Fireman's Brew we started making small batches of different styles of beer and shared them with friends and family at our tasting sessions.
We knew we were on to something when people started asking us if they could buy some. After that we started bottling, literally cutting the labels out by hand with a knife and delivering beer out of the trunks of our cars to our first accounts. It's incredible to look back at where we started and see where we've come today.
How did your firefighting background contribute?
In every way imaginable as I've been blessed to be surrounded by a great group of guys with everyone lending a hand to help make Fireman's Brew a success. It's really that resourcefulness and teamwork mentality of being a firefighter that's enabled us to build Fireman's Brew from the ground up.
What has been the response from fellow firefighters?
People come up to me every day and want to hear about what we're doing and want to know how they can get involved — from investing to volunteering to helping out in any way we need it.
Right now, we have a dozens of firefighters who work with us on their days off — doing everything from assisting at the brewery, to shipping out product at our warehouse or just going out to events to represent the company.
What about from other companies?
The response from other companies also has been extremely positive and humbling at the same time. Everyone has a personal connection with firefighters, and it's amazing to hear their personal stories about how first responders have impacted their lives. That has really helped to open doors with investors and business partners.         
What kind of beers do you sell?
Fireman's Brew — Blonde: Pilsner Style Lager (5% ABV) — It's the lightest of our beers, crisp and refreshing and is the perfect beer for tailgating or holiday parties.
Fireman's Brew — Brunette: Traditional German Doublebock (8% ABV) — This is our signature beer. We make it with imported Chocolate Malts that give it a rich color and chocolaty-mocha finish. It's our most complex beer, but is still very smooth to drink and pairs up great with a variety of holiday foods.
Fireman's Brew — Redhead: Red Amber Ale (5.5% ABV) — We use caramelized malts in the brewing process to give it its rich copper color and caramel taste, and balance it out with a variety of hops to create a flavor packed amber ale that goes perfect with ribs, pulled pork or chili.
Where is Fireman's Brew available?
It's now available at bars, restaurants and retail stores in over 15 states with plans to build it into a national brand. It's currently available in California, Arizona, Nevada, Colorado, Nebraska, Iowa, Oklahoma, Illinois, Kansas, Virginia, Rhode Island, New York, Ohio, Hawaii and Michigan.
To find Fireman's Brew near you, check out our Brew Finder.
Any plans to expand distribution?
Absolutely! Our plans are to build Fireman's Brew into a national brand. We have licenses pending in four new states as we speak, and I anticipate that we'll be in over 20 states by the end of Q12015.
Do you have any fun facts that you want to share?
One of the really interesting facts about Fireman's Brew is that we're one of the few craft beer companies that give people the opportunity to invest and have a direct ownership stake in the company.
Last year, we conducted a successful private stock offering to investors in California and recently expanded that to a national level. Now through our Flash Seed Preferred Stock Offering, accredited investors across the U.S. can purchase shares in Fireman's Brew and own a piece of their very own craft beer company. More information can be found here.