PRESS RELEASE
California firefighter receives $10,000 thank you from California Casualty
---
SAN MATEO, Calif. — "I am in shock; but this is great," said Ken Harris as he accepted the Work Hard/Play Hard $10,000 check from California Casualty.
Ken knows what it's like to put his life on the line for his community. He's been an EMT for more than 20 years, and served with the City of Fillmore Fire Department for the past eight years. Ken provides fire protection, and also teaches fire safety and first aid classes.
"I go to work each day knowing that I can make a difference in someone's life, even in some of their worst moments," he said. "I feel lucky to live and work here helping others."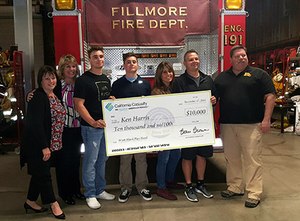 California Casualty created the Work Hard/Play Hard program to thank peace officers, EMTs and firefighters – American heroes who work hard and risk their lives daily for their communities.
Ken said that the award comes at a perfect time. He has two sons in college with a third son who will start college two years from now. Other than a quick weekend getaway, he said the money will go toward tuition and books.
"We want to show first responders how much we appreciate all that they do by giving them the opportunity to de-stress and blow off some steam," said California Casualty Sr. Vice President Mike McCormick.
Previous winners of California Casualty's Work Hard/Play Hard contest include:
• California Highway Patrolman Robert S., $25,000
• California EMT Joe P., $10,000
• Pennsylvania firefighter Robert M., Harley-Davidson Forty-eight
• Nebraska firefighter Tom V., $10,000
• Ohio paramedic Ellie P., Polaris ATV
• Arizona State Patrol employee Jacque O., Sea Doo personal water craft
First responders can learn more about California Casualty and how it appreciates all they do at https://mycalcas.com.
About California Casualty
Headquartered in San Mateo, California with Service Centers in Arizona, Colorado and Kansas, California Casualty provides auto and home insurance to educators, firefighters, law enforcement and nurses across the country. With over 100 years of service, California Casualty has been led by four generations of the Brown family. To learn more about California Casualty, or to request an auto insurance quote, please visit www.calcas.com or call 1.800.800.9410.

Request more info from California Casualty
Thank You!