PRESS RELEASE
Fire Service Leaders to Convene in Charlotte July 26-29 for FRI 2017
---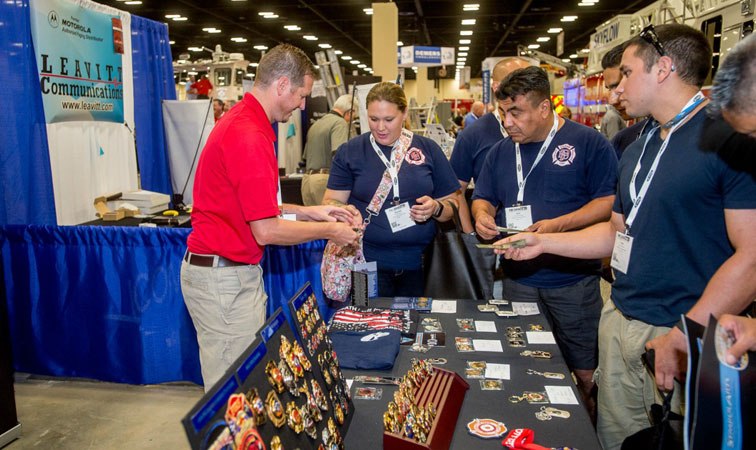 FAIRFAX, Va. — More than 10,000 fire and emergency service leaders, experts, exhibitors, guests and industry partners from around the globe will assemble July 26-29 in Charlotte, N.C., for Fire-Rescue International (FRI), the annual conference and expo of the International Association of Fire Chiefs (IAFC).

FRI offers to current and future career and volunteer fire and EMS chiefs, chief officers, company officers and managers of emergency-service organizations throughout the international community the information, education and services needed to enhance their professional development and service delivery. In addition, FRI features more than 450 exhibitors who showcase their products and services for fire and emergency-service leaders.

"Fire-Rescue International is the largest annual gathering of fire and emergency service leaders anywhere," said Fire Chief John Sinclair, IAFC president and chairman of the board. "It's a rare opportunity when fire and emergency service leaders come together face-to-face to share ideas and find solutions." 

FEATURED EVENTS

High-Impact Training: The Injured Firefighter and Gear-Removal Practices
Location: Exhibit Hall, Friday, July 28-Saturday, July 29

Attendees will gain best practices and techniques for removing personal protective equipment from an injured firefighter and transitioning the situation from firefighter removal to EMS care. Learn more about HIT.

Outdoor Demonstrations 
Location: Corner of Brevard Street and Martin Luther King Blvd., Saturday, July 29, 9 AM

Brief demonstration of Charlotte Fire Department's 1902 Steam Pumper, affectionately known as "Old Sue."  In addition, the department will demonstrate the 1866 Jeffers Hand Pump Engine that was utilized by Charlotte's volunteer fire companies in the mid- to late 19th Century. 

FRI General Session
Location: Crown Ballroom, Thursday, July 27, 8–11 AM

The general session will feature: 
Three 15- to 18-minute presentations from fire and emergency-service leaders on topics important to today's fire and emergency service:
Dr. Joseph Ornato, professor and chairman of the Department of Emergency Medicine at Virginia Commonwealth University Medical Center in Richmond, Va.
Chief Richard Price, founder and president of the PulsePoint Foundation 
Chief Tom Jenkins, IAFC first vice president and City of Rogers, Ark.
Presentation of the Fire Chief of the Year awards
Presentation of the IAFC/Motorola Solutions Ben Franklin Award for Valor
Presentation of the President's Awards of Recognition
The general session will conclude with the installation of the 2017-2018 officers:
Chief Jenkins as president and chairman of the board
Chief Gary Curmode, Copper Mountain Fire Department (Colo.), as first vice president
Chief Sinclair as immediate past president 
Chief Dan Eggleston, Albemarle County Department of Fire and Rescue (Va.), as second vice president. 
Firefighter Memorial, Survival Walls
Location: Main Lobby and Exhibit Hall Health and Wellness Zone

The Firefighter Memorial Wall and the Firefighter Survival Wall will feature photos and names of firefighters who have dealt with or are currently dealing with job-related health issues. The walls will highlight how critical it is for firefighters to receive annual medical exams that are consistent with the risks they take in the line of duty. Hosted by FSTAR Health and the IAFC. Visit FSTAResearch.org for more information.

Diversity Breakfast
Location: 218AB, Friday, July 28, 7–8:30 AM

The diversity breakfast is a great place to engage with other leaders interested in fostering diversity and inclusiveness in their department and throughout the fire and emergency service. Together, attendees bring unique perspectives as they work toward shared goals that will move us forward with a united mission. 

Education, Learning, and Professional Development
More than 180 educational sessions with almost 300 hours of content will be offered as a forum for leaders to share information and best practices on a range of topics important to the fire and emergency service. Topics will include 
Safety, health and wellness
Operations
Community risk reduction
EMS
Leadership
All-hazards management
Administration and human relations
And more! Sessions offered include: 
Fire-service cancer prevention practices
Behavioral-health issues and solutions in the fire service
Overcoming organizational barriers to firefighter fitness programs
The opioid epidemic
Developing an active-shooter response plan for smaller communities
Unmanned aircraft systems in the fire service
Fighting fire with data
Recruiting the next generation of volunteers
Other sessions will explore social and cultural challenges that fire departments are facing both inside and outside the firehouse doors: 
Civil Unrest: The Charlotte Experience
Promoting and instituting cultural change
Confronting racism in fire and emergency services
Managing change in fire departments  
Developing the next generation of fire service leaders
EXHIBIT HALL

The FRI Exhibit Hall will feature hundreds of exhibitors displaying the latest products, services and technologies the fire-service industry has to offer. New in 2017 is the Grand Opening Reception, which will take place Thursday, July 27, from 5–7 PM. Exhibit hall hours each day:
Thursday, July 27, 5–7 PM
Friday, July 28, 10 AM–5 PM
Saturday, July 29, 8:30 AM–1 PM
Information on all conference events and activities is available on the FRI website. Members of the news media interested in attending FRI should contact Jim Philipps at 703-537-4829. 
About the International Association of Fire Chiefs (IAFC)
The IAFC represents the leadership of firefighters and emergency responders worldwide. IAFC members are the world's leading experts in firefighting, emergency medical services, terrorism response, hazardous materials spills, natural disasters, search and rescue, and public safety legislation. Since 1873, the IAFC has provided a forum for its members to exchange ideas, develop professionally and uncover the latest products and services available to first responders.