PRESS RELEASE
Fire/EMS personnel now eligible for NTOA membership
---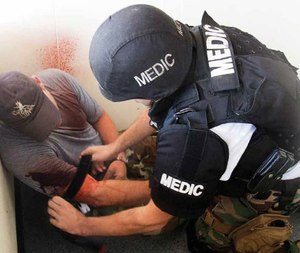 COLORADO SPRINGS, Colo.– The National Tactical Officers Association (NTOA) announces it has expanded its membership eligibility requirements to include Fire/EMS personnel.
The NTOA recognizes that all First Responders must work together during critical incidents to ensure a safe and secure outcome. For this reason, we invite our Fire/EMS community to join the NTOA to further develop your skills through training and education.
The NTOA provides premier professional development, education, training, and networking opportunities connecting nearly 40,000 members worldwide.
Benefits of membership include:
Subscription to The Tactical Edge magazine
Registration discounts to attend NTOA's annual conferences – the Law Enforcement Operations Conference and the Crisis Negotiations (CNT) Conference
Registration discounts on select stand-alone training courses including School and Workplace Violence: Preparation and Response, Response to Suicidal Subjects, Tactical Emergency Medical Support (TEMS) and Basic Crisis Negotiations, just to name a few.
Member Tested and Recommended Database Access
Access to Subject Matter Experts
And much more…
For more information on the National Tactical Officers Association, visit www.ntoa.org or call 800-279-9127. Join the NTOA today and start receiving the benefits of better training and stay on top of the ever-changing and challenging world of public safety.
About the National Tactical Officers Association:
The mission of the NTOA is to enhance the performance and professional status of law enforcement personnel by providing a credible and proven training resource as well as a forum for the development of tactics and information exchange. The association's ultimate goal is to improve public safety and domestic security through training, education and tactical excellence. www.ntoa.org.