PRESS RELEASE
MN8-Foxfire and Phenix Technology Introduce Customizable Illuminating and Reflective Helmet Magnet Panels
---
Cincinnati, OH — MN8-Foxfire, the developer of breakthrough advanced photoluminescent technology products for firefighters has partnered with Phenix Technology Inc., an industry recognized manufacturer of high quality fire helmets to introduce customizable illuminating and reflective helmet magnet panels.

The magnet panels, which measures 2" x 3.5", are customizable with up to 4 alphanumeric characters or less. Available reflective colors include red, green, black, silver or blue.

Foxfire products utilize an advanced photoluminescent technology that posses the unique capacity to absorb and store light and then release it as a bright luminance in the dark. The illumination from Foxfire products provides safety to firefighters and others who work in the dark.

"Phenix helmets have an outstanding reputation in the industry and Foxfire illuminating helmet bands, tetrahedrons and helmet bars are already available as upgrade options on Phenix helmets," says Zachary Green, president of MN8-Foxfire. "Many firefighters have asked about the possibility of customizable illuminating helmet magnets and we couldn't be more pleased to launch this new product with Phenix."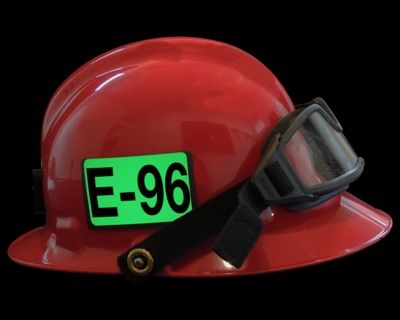 "With safety always being our primary concern, we like that these new helmet magnets provide reflectivity and a photoluminescent glow when no light is available," says Angel Sanchez, Jr., chief operating officer, Phenix Technology, Inc.

Foxfire illuminating helmet magnet panels are available through the Phenix distributor network and MN8-Foxfire sales channels. Retail price is $13.50 for a magnet panel set of 2 (base magnet not included). Simple designs (other than letters and numbers) are available, these require a 25 minimum order and a $25 set-up fee. Visit http://www.phenixfirehelmets.com to locate a Phenix distributor near you or the MN8-Foxfire website at www.mn8foxfire.com.
About MN8-Foxfire
MN8-Foxfire is a firefighter owned company that offers energy efficient and eco-friendly products utilizing breakthrough advanced photoluminescent technology. MN8's product offerings for the fire safety industry, marketed under the name Foxfire®, have earned a reputation for safety, high quality and performance-proven. The Ohio Chamber of Commerce, Cincinnati USA Regional Chamber, Cincinnati Innovates and Cincy Magazine have recognized MN8-Foxfire for its entrepreneur efforts in developing technology that keeps firefighters safe. The company is headquartered in Wyoming, Ohio, a Cincinnati suburb. For more information, visit www.mn8foxfire.com.
About Phenix Technology, Inc.
Phenix Technology, Inc. was founded in 1972 by two firefighters who had the desire to make safe helmets that incorporated balance, longevity, lightweight, ergonomic design and were usable for all types of emergencies. Now operating for more than four decades, Phenix Technology, Inc. has accumulated a wealth of design knowledge and is a recognized manufacturer and seller of high quality professional fire helmets built to NFPA industry standards. Phenix Technology's fire helmets are used by thousands of firefighters in the United States and worldwide. Proud to offer only products that are American made, Phenix Technology, Inc. operates out of its headquarters located in Riverside, California. For more information, visit www.phenixfirehelmets.com.