PRESS RELEASE
Quickstop Unviels New Firefighter Multi-Tool
---
San Diego, CA - Quickstop Fire Sprinkler Tools recently developed the world's first firefighter multi-tool designed to stop fire sprinklers activated by heat or accidental causes.
The multi-tool combines a fire sprinkler tool, spanner wrench (for hose connections and FDC caps), door chock, 02 wrench, utility key and PRV wrench.
"We've combined the most capable fire sprinkler tool on the market with 5 other commonly used firefighter tools" says Matt Scarpuzzi, CEO and Founder of Quickstop Fire Sprinkler Tools. "Having 6 tools in 1 gives fire crews the equipment they need on the fire floor, right when they need it."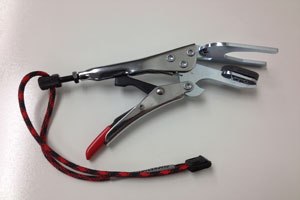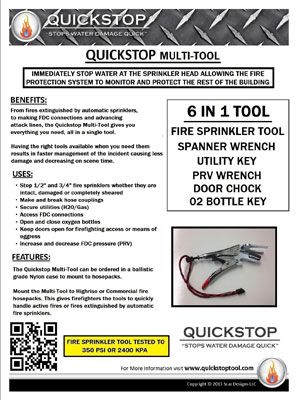 From active structure fires to extinguished fires by automatic sprinklers, firefighters now have a single tool to handle common tasks on these incidents. As the number of sprinklered buildings in the U.S. increases, fire crews are encountering more and more extinguished fires with severe water damage to the structure. The multi-tool stops that water immediately without having to shut down the fire protection system.
Quickly stopping the water at the head, allows the remaining fire protection system in the building to operate while crews check for extension of fire or the water shut off. The chance of a hidden secondary fire or rekindle is greatly decreased since you would be notified of a sprinkler activation immediately. You are also reducing building damage which results in less clean up and shorter on scene times for fire crews.
The Multi-tool can be purchased in a ballistic grade nylon case to mount the tool to hose packs. This allows fire crews to have the tools available on the fire floor as they carry hose packs above or below ground.
To find out more about the Quickstop tool visit us at: www.quickstoptool.com