PRESS RELEASE
Raynor Garage Doors donates new garage door to city of Dixon replicates classic, original 1900's firehouse door
---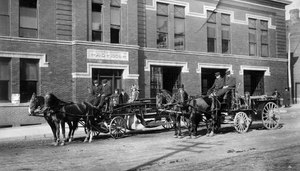 Raynor Garage Doors is pleased to announce it is giving back to the community they call home and recently donated new garage doors to the City of Dixon in Dixon, Illinois. The City's building, once home to the Dixon Fire Department, has been a staple in the community for more than 100 years, where it provided fire suppression, rescue, fire prevention, emergency medical services and disaster preparedness to the community, located at 121 West 2nd Street in downtown Dixon.
"When we knew we needed to replace the garage doors on this building, ensuring they stay true to the original building, we knew just who to call," said City of Dixon Building and Zoning Official Tim Shipman. "Raynor gives so much back to our community and it's much appreciated for the city, staff and our citizens." 
"Raynor firmly believes in being an active member of the City of Dixon and the community at large," said Raynor Garage Doors Chairman and CEO Ray Neisewander, III. "We were honored to donate these doors to the department to restore the classic, elegant look to the old fire station with our product."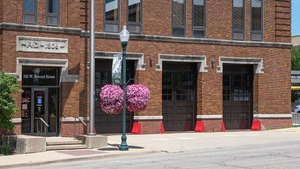 Raynor Garage Doors installed its Eden Coast by Raynor overlay doors on all three bays. This model allowed the Raynor team to closely replicate the look of the garage doors that were originally installed on the fire house back in 1906.
"We are so blessed to partner with Raynor and receive new, vintage-design garage doors on one of the most historic buildings in our city," said Dixon Mayor Liandro Arellano Jr. "Raynor has been a part of the fabric of the Dixon community for 75 years. They go above and beyond to create solid products for consumers all over the country and we are extremely proud to call them one of our own."
"As a local company, we believe it is incumbent on us as an employer to maintain strong ties with the Dixon community and participate in projects that help to restore, beautify and improve the area," concluded Neisewander.
To learn more about the Dixon Fire Department, visit www.dixongov.com. To learn more about Raynor Garage Doors, visit www.raynor.com.
About Raynor Garage Doors
Since 1944, Raynor Garage Doors has been an industry leader as a family-owned garage door manufacturing company located in Dixon, IL. With over 800 distributors in the United States, 190 in Canada, and 60 distributors in 50 countries on 5 continents, Raynor proudly manufactures a full line of residential garage doors and commercial doors, industrial, agricultural, and loading dock doors.