PRESS RELEASE
Smoothie King pioneers franchise incentive for nation's First Responders
---
Global smoothie brand creates first-time program for Law Enforcement Officers, Firefighters & EMTs
NEW ORLEANS — With more than 10 million first responders in the United States who possess values deeply rooted in community, wellness, and trust, leading global smoothie franchise Smoothie King announced today an exclusive program that paves a path to business ownership for America's bravest citizens. The Smoothie King First Responders Initiative will help law enforcement officers, firefighters and emergency medical technicians open a franchise business that aligns squarely with their desire to give back to the community.
Designed for first responders who have completed at least 10 years of service, qualified candidates will receive a 20 percent discount on their initial franchise fee. While Smoothie King and other franchises have long offered incentives to military veterans through the International Franchise Association's VetFran program, the First Responders Initiative breaks new industry ground.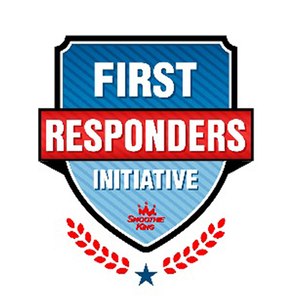 "Smoothie King's community service-oriented culture, combined with the process of following-a-system and training store teams, parallels closely with the mindsets of first responders," said Chad Tramuta, Franchise Development Manager at Smoothie King. "We're not by any means out there saving lives every day like they are, but community purpose, passion and involvement is in our brand DNA. Our franchisees share the company's vision of inspiring healthy, active lifestyles and most are deeply involved in their communities."
In addition to the discount, all first responders who sign on with Smoothie King will be equipped with the brand's 'recipe for success', including a compliant business model composed of comprehensive training manuals, proprietary processes and a multi-country support team with more than 43 years' experience. The franchise opportunity offers first responders a maximized ROI, low cost of labor and goods, and the potential for long-term growth. With a total initial investment ranging from $188,200 - $414,050, each franchise location requires a minimum cash requirement of $100,000 and a net worth of $300,000. First responders are dedicated to serving and supporting their local communities and are highly-motivated, passionate, and driven individuals with a strong work ethic– characteristics that align perfectly with the values of a successful Smoothie King operator.
The program launch follows a strong year of growth for the brand, including the addition of 100 units which expanded the concept to more than 865 total locations worldwide. The Smoothie King First Responders Initiative is part of a larger growth strategy that aims to expand the brand into new and existing markets such as Atlanta, Chicago, Dallas-Fort Worth, Houston, New Orleans and San Antonio, among others.
Founded in 1973, the Smoothie King continues to make "smoothies with a purpose" that are expertly blended with real fruit and fruit juice, nuts or veggies enhanced with high-quality proteins, vitamins, minerals, antioxidants crafted to help each consumer reach their personal goals. More consumers are demanding better-for-you beverages and tasty meal replacement options and Smoothie King is meeting these demands with a large variety of smoothie offerings and in turn, cultivating new customers and fueling continued brand growth.
"The Smoothie King franchise opportunity is a great fit for first responders who are close to retirement yet have a strong desire to continue to help others," Tramuta added.
To learn more about Smoothie King and its franchise opportunity, visit www.smoothiekingfranchise.com.
About Smoothie King Franchises, Inc.
Smoothie King Franchises, Inc. is a privately held, New Orleans-area-based franchise company with more than 865 units worldwide. By creating each smoothie with a purpose, Smoothie King makes it simple and pleasurable for guests to achieve their individual health goals as part of a low-calorie diet and regular exercise routine. The franchise also offers a number of healthy retail products, including sports beverages, energy bars, vitamins, supplements and more.
Smoothie King was founded in 1973 by Steve Kuhnau, whose mission was to help others achieve better health in a tasty way. In 1989, Smoothie King became the first smoothie franchise in the U.S. and currently operates in 33 states, the Caymans and the Republic of Korea. In 2015, Smoothie King was ranked No. 1 by Entrepreneur magazine in the juice bar category for the 21st year and No. 79 overall on the 2015 Franchise 500 list. In 2014, Smoothie King partnered with the New Orleans Pelicans of the National Basketball Association to launch the Smoothie King Center, a multi-purpose indoor arena in New Orleans, Louisiana. Visit www.smoothieking.com or www.smoothiekingfranchise.com; engage on Facebook at www.facebook.com/SmoothieKing; follow on Twitter at http://twitter.com/smoothieking.