5 dead of carbon monoxide poisoning in Md., no detectors found
550ppm reading inside home, investigation continues on flue pipe as possible source
---
By Eric Tucker
Associated Press
OXON HILL, Md. — Five people have been found dead of suspected carbon monoxide poisoning at a home in a Washington suburb, authorities said Tuesday.
Two of the dead were found around 10:45 a.m. Tuesday by a relative who showed up at the home to check on their welfare, said Mark Brady, a fire department spokesman in Maryland's Prince George's County. Firefighters later found three more bodies in the home in the suburb of Oxon Hill.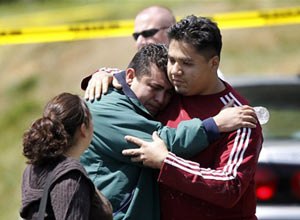 Neighbors had last seen the home's occupants Monday evening. All five victims lived in the home. They included two men in their 30s, one man in his 40s, and two women in their 60s, Brady said. A dog also was removed from the home on oxygen support.
Authorities said the investigation was centering on a flue pipe that showed signs of significant wear and tear, including holes that appeared capable of letting unhealthy levels of carbon monoxide seep into the home. A recent cold snap might have accounted for the furnace being operational, Brady said.
Firefighters detected extraordinarily high levels of carbon monoxide in the home, Brady added. A normal carbon monoxide reading is 0 to 5 parts per million and the reading taken at the home measured 550 parts per million.
"Someone exposed to CO at that high a level could succumb probably within a couple of hours," Brady said.
Public records indicated that Sonia M. Chavez and Oscar A. Chavez lived in the home, which was built in 1955 and purchased by the woman in 2010. Police and fire vehicles packed streets surrounding the house in a largely Spanish-speaking neighborhood.
Marvin Chavez Quinteros, who said he was Sonia Chavez's stepson, identified her and his father, Oscar Chavez, as among the victims. At least some of the five were originally from El Salvador.
Members of the victims' close-knit Spanish-speaking church hugged each other and Chavez's son as they stood behind yellow police tape. One woman, who would not give her name, said she took comfort that the victims were with God.
Homicide detectives went to the scene, but there was no indication of foul play, said Cpl. Mike Rodriguez, a county police spokesman.
Ramon Nunoz, who lives across the street, said the married couple was originally from El Salvador and the man worked in construction.
"They were good people. I'm very sad that this happened," Nunoz said.
Fire officials could not find any carbon monoxide detector, a device that could have served as an early warning.
____
Associated Press writer Ben Nuckols contributed to this report from Washington.
Copyright 2012 Associated Press