PRESS RELEASE
Introducing the New G450
---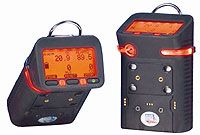 Hands-Free Assurance
Whether in a confined space or an open area, the G450 is easy to operate, easy to read, and easy to carry. This multi-gas monitor is the global standard in gas detection.
Compact, economical, reliable
O2, H2S, CO, and combustible gases
AutoCal® automatic calibration
Extra large, invertible, heterochromatic display
Rotating 360° bright, flashing alarms
Loud 103 dB buzzer
Rugged design, IP67 (dust and watertight)
Only 10 ounces plus integral rubberized tough housing
24 hours of continuous operation
Rugged design
The compact and lightweight 4-gas detector continuously measures H2S, CO, O2, and combustibles in ambient air. The functional and watertight design (IP67) provides an impact proof rubberized housing, which meets all requirements for harsh environments.
Long life sensors
The G450's pre-calibrated sensors provide precise readings and have a long sensor life; decreasing the cost of ownership.
Operation time
The G450's operation time is up to 24 hours, depending on the frequency and duration of alarms. Batteries are fully recharged in four hours with the optional NiMH battery pack.
Perfect alarm system
The G450 has a loud buzzer (103 dB) and bright rotating 3600 flashing alarm.
Ease of use
The lightweight device allows intuitive handling with only three soft keys to navigate the simple menu. A large full graphic display provides clear readings of all relevant data. Display can be inverted with the push of a button.
Accessories
Sampling pump-Coming soon
A self powered electronic sampling pump can be attached for confined space entry in vessels or sewers. A low flow alarm is triggered if insufficient flow is caused by a blocked or kinked tubing.
Data logger-Coming soon
The optional loop data logger records gas concentrations and alarms over a period of 50 hours. This data can be transferred to a PC for record keeping.
Calibration equipment
The smart calibration cap instantly informs the instrument the calibration adapter is attached to the unit, and affords the possibility of sensor zeroing or calibration with the push of a single button. Calibration of all sensors is accomplished simultaneously with a single cylinder of gas, saving time and money.