4 ways to improve firefighter health and protect investments
Open storage extends the life of agency investments in turnout gear and helps keep firefighters safer
---
Sponsored by GearGrid 
By Andrea Fox, FireRescue1 BrandFocus
It was once thought that the filthier the turnout gear, the more seasoned the firefighter. While firefighters are now more aware of toxic dangers and know that gear decontamination reduces their health and cancer risks, they do not often demonstrate behavior consistent with that knowledge.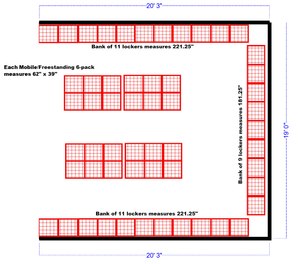 In a 2019 study, firefighters reported limited decontamination efforts after a fire. Time out of service was a factor, but they were also concerned about wearing wet gear on the job.
Ventilated gear storage with a modular design makes it easier for agencies to protect their investments in turnout gear and support optimum firefighter health practices. Maximized airflow, according to GearGrid, is critical to help mitigate exposures from gear and promotes faster drying, while flexible functionality accommodates individual fire station and firefighter needs.
The following are four ways to improve firefighter health and protect gear investments with open lockers.
1. GET AIRFLOW ACROSS TURNOUT GEAR
Fireground contaminants and toxins embed themselves into turnout gear fabric, exposing firefighters even after the active response. Firefighters who ball up their gear and put it in the bottom of a locker just further drive in any toxins present.
"There are still fire departments and firefighters that come back from the fire scene with particulates embedded in their turnout gear. Maybe they don't have the extraction service or the washers," said Jeff Anderson, sales manager at GearGrid. "If they put gear in an enclosed space, particulates are going to stay within that space - and later when they open that locker or storage compartment, they get hit with it."
That's where off-gassing - the airborne release of vapor - becomes critical, he explained. Many firehouses are now separating turnout gear storage in ventilated rooms under negative pressure, "so particulate can get up and out of that room without getting into the rest of the station," he said.
With open storage, airflow helps ensure more of the dangerous off-gases reach ventilation systems.
2. PROMOTE DRY GEAR
Enclosed locker-room style gear storage not only limits ventilation, but also exacerbates mold growth.
"If gear is not fully dry, you want to maximize air drying by allowing air flow to continually pass over the locker," said Anderson.
GearGrid offers open storage options to suit all space sizes and constraints. For the city of Miami, the company provided two-tier open lockers for all 13 of its fire stations.
"They had a hell of a problem with cancer, like a lot of places do. They were using school double-tier lockers. You'd open it up and the smell and the wetness that came out of those lockers was awful," said Anderson.
No longer needing to compress their gear into school lockers, Miami firefighters can reduce their risk of further embedding carcinogens and toxins into gear fabric. Their washed gear can also dry more effectively with GearGrid, minimizing mold growth.
3. SOLVE GEAR STORAGE FOR GENERATIONS
While there's an element of customization to GearGrid - with seven different colors agencies can choose from - the suite of products all works together seamlessly to serve changing needs.
"Our products are so modular and flexible that you can take the same product, such as a standard firefighter locker, and add two more shelves, and it becomes bag storage for EMS," said Anderson. "We can take our products and really reconfigure them for any specific purposes."
With 20 different sizes of firefighter gear lockers, agencies can select any combination that will meet their gear, equipment and storage mobility needs. From the various sizes of standard wall mount lockers and mobile personnel lockers to equipment storage models, carts, drying racks and more, agencies can create a unified look and function throughout their firehouses.
In addition to standard gear, turnout, two-tier and mobile-style open lockers, GearGrid offers 30-inch and 3-foot wide lockers that all feature its 3x3-inch square grid design sought by overseas fire departments.
The grid design enables firefighters to quickly adjust shelves and accessories, versus diagonal grid storage systems that limit placement in joints, are typically backless and not designed for rugged environments.
Standard GearGrid features include back wall panels, support rails and locking casters that are designed to serve fire departments for the long haul. While back panels are not integral to locker structure, they are essential to keeping gear off walls and in place, says Anderson, and locking casters provide both mobility and safety.
"If you are space constrained and need a mobile locker system, you certainly don't want it moving on its own," said Anderson, "so those four locking casters keep it in place wherever you want it."
With a square grid, accessories like the Geardryer coat drying hanger and Gearglove drying hanger can also be moved anywhere in lockers to promote critical airflow for gear off-gassing. Additional features, like stainless steel hang bars, are also adjustable within each locker opening.
GearGrid extends its expertise, sharing sample floor plans and helping departments with their layouts using computer aided drawing software to ensure they leave enough space for egresses and walking around.
"It really comes down to identifying department needs and tailoring a product that will work for them," Anderson said.
4. KEEP GEAR STORAGE AREAS CLEAN
With COVID-19, the need for cleaning has become more frequent - including your storage. GearGrid recommends wearing proper PPE compatible with the disinfectant to be used, but first scrub dirty surfaces with a detergent or soap and warm water and let it dry before applying.
The GearGrid storage system is finished with a 3-4 mm TGIC powder coat with UV protection and designed to stand up to frequent cleaning. The powder-coated metal surfaces meet ASTM International standards and can be treated with a solution of 1/3 cup of bleach per gallon of water that sits for approximately 10 minutes.  
GearGrid has installed gear storage in more than 8,000 firehouses. Not only does its patented open storage design better protect gear, its durability stands up to fire service, says Anderson. Products were developed by a former assistant fire chief who understands the environment, he adds, so they are built to withstand rough use.
Since 1997, the company has designed firefighter gear storage and for 100 years, manufactured every component of their products in Minnesota.
"GearGrid is made to American standards using American steel, where you know the quality of the certified steel that you're using, and it's very critical to the structure of a product. We're also using such a high-grade, super-durable TGIC powder coat, and we know the quality of that material before it even gets into our facility. Everything the company uses in the system, we make here, so we control the quality and can offer the highest value for the investment," said Anderson.
For more information on open firefighter gear storage, visit GearGrid. 
READ NEXT: How PPE storage reduces your exposure to risk in the fire station

Request information from GearGrid
Thank You!