Groves releases new Ready Racks to meet storage demands
Storage units look to create more space in the firehouse
---
By Scott M. Bruner
Fire Rescue1 Product Editor
Groves, Inc. has released a pair of new products in their Ready Rack line of storage equipment designed to provide versatility, and a higher level of storage capacity in the firehouse.
Mobile Worktable
The first is the Mobile Worktable, a dynamic workstation that can be moved on heavy duty casters throughout a work area. Its quick-change shelves, which can be ordered with quick change flat shelving or with V-shelves, are able to accommodate SCBA bottles, tools or storage bins.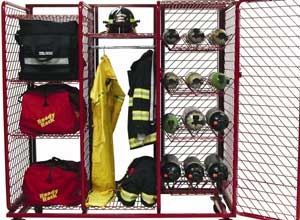 "It uses an open back system that firefighters can access from both sides. You can store equipment and have tool access from both sides, and it's movable throughout the fire station," John Groves, vice president of Groves, Inc. said. "It's a multi-use item designed for anytime firefighters need to work on SCBA equipment, cylinders, packs or nozzles, anything you have to repair."
It's available as a two compartment model that measures 5.25 inches long, 25 inches deep, and 39.5 inches tall or a three compartment model measuring 77 inches long, 25 inches deep and 39.5 inches tall.
It comes with an industrial stainless steel top and the shelves are able to be customized to fit space or repair needs. The Worktable also features a powder coat finish for durability.
SOS Rack
The second new item from Ready Rack is the SOS Rack, a gear rack system designed to provide extra storage capacity and, like the Worktable, the ability to access equipment from all sides.
The SOS Rack is constructed from heavy duty steel tubing with strength wire and its four casters can handle up to 1,050 pounds. It is 32 inches deep, 81 inches tall and 76 inches long.
The Rack is able to store up to 18 SCBA or SCUBA cylinders per vertical section and can also store oxygen bottles. The modular design of the rack allows for multiple configurations of specialized or flat shelves for gear bags, turnout gear, and water rescue gear.
Accessories are also available for gear drying and hanging. By installing the optional security doors, it can keep equipment safe as well. Finally, it ships knocked down to save on delivery cost.
"What's innovative about the SOS Rack is that it's a multi-use piece of equipment that can store anything. It can be an open or closed system depending on your security needs. It was created to store a lot of equipment in a smaller space with the versatility to do both bottle and equipment storage," said Groves.
Ready Rack open air storage systems are offered through Groves Incorporated and can be found on the Web at http://www.groves.com/rack/.