How PPE storage reduces your exposure to risk in the fire station
Because storage isn't just about extending the lifeline of your gear
---
Sponsored by GearGrid
By Robert Avsec for FireRescue1 BrandFocus
The disturbing revelations that the exposure to the toxic chemicals, chemical compounds, and carcinogens present in today's structure fire smoke, and the increased risk of developing various forms of cancer as a result of those exposures, has quickly garnered the attention of firefighters and fire service leaders alike.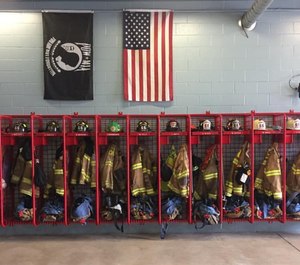 One thing that should be on every firefighter's agenda is changing the relationship they have with their structural firefighting protective ensemble (commonly known as PPE). It's no longer acceptable to wear that PPE for any activities other than active fire suppression duty or live-fire training.
Why?
Because even freshly laundered PPE using a washer/extractor that's dried (using active or passive drying) is still likely to have some level of contamination in one or more of its layers.
Therefore, it's imperative that fire departments develop a logistical process within their fire stations to safely, effectively, and efficiently take dirty PPE that's returning to the fire station, launder it, and then properly store it for the next response. In this article, we'll discuss what should be in that process and what equipment can help make it happen.
HANDLING DIRTY PPE
One aspect of exposure reduction involves the handling and storage of PPE from the time it returns to the station (dirty) to the time it's laundered and stored for the next response (clean).
First, let's look at managing that dirty gear while it's waiting for its turn in "the pool" (the washer/extractor). It's probably safe to say that for most fire stations that have a washer/extractor, only have one. So, the staging of PPE is important (And piling it on the floor is not a good idea.)
The Fire & EMS Slinger Workstation from GearGrid is a mobile workstation that can be configured with flat shelving to accommodate dirty PPE for transport from the fire apparatus to the laundering location in the station. It can also be outfitted with storage to accommodate the PPE (e.g., rubber gloves, Tyvek coveralls, rubber aprons, face shields) your personnel will need to use when handling dirty gear. The "Slinger" can also serve as the workstation to prepare PPE (bagging and tagging) to be sent out of the station for laundering (e.g., to another station, a central location for the department, or a third-party vendor).
All GearGrid products are constructed using heavy-duty 1-¼-inch tubing for the frame; the side and back panels consist of high-strength 1-¼-inch wire in a 3-inch by 3-inch square grid pattern. All frame and panel components are coated with a super durable TGIC powder coat that can be customized using any one of seven standard colors.
PPE STORAGE RISKS
Knowing what we know now about the cancer risk from exposure to diesel engine exhaust emissions (especially the particulates), many fire departments are taking a serious look at how they're currently storing firefighting PPE for the next response. For most of those departments, their legacy storage involves lockers in the fire apparatus bay (usually along the outer walls) and in some cases, even still, hanging PPE from nails on the wall. Turnout gear stored in the fire apparatus bay is potentially exposed to a couple of hazards.
While many fire departments have installed diesel exhaust removal systems—and that's a good thing—there are still emissions that make it into the fire apparatus bays (e.g., hoses aren't connected promptly, or they're connected improperly, or they fail). And if your station's system is not a direct-capture system (system hose connected directly to the vehicle exhaust pipe) there's still going to be diesel exhaust particulates settling on exposed PPE elements like the coat and pants and getting into the various layers of the garment.
And that smokey smell that permeates the apparatus bay after a fire? That would be the off gassing of contaminants from PPE (that's not been properly cleaned) hanging in the bay as well as fire hose that's been repacked on fire apparatus without cleaning. If you can smell it, then it's not clean.
PPE STORAGE OPTIONS
The new goal should be the reduction of PPE exposure to those identified risks. And to do that, fire departments really need to apply the "tried and true" strategies of hazmat risk reduction:
Time. Limit the time that PPE is exposed to the identified risks (e.g., only have the PPE of on-duty personnel out on the apparatus bay floor).
Distance. Create distance between the sources of the risk (e.g., fire apparatus, dirty fire hose, dirty PPE awaiting laundering) and stored PPE.
Shielding. Protect PPE from physical risks, particularly diesel engine exhaust particulates, off-gassing from dirty PPE and dirty fire hose, and damaging UV rays (sunlight and fluorescent lighting).
The optimal storage space for cleaned PPE is a dedicated room in the fire station with negative pressure ventilation to the outside of the station and non-fluorescent lighting (This may not be feasible in an existing station but certainly should be a key consideration when planning for a new station).
GearGrid's Standard Fire Station Wall Mount Lockers and Free Standing Tube Wall Structure provide durable well-ventilated PPE storage solutions that work well in a dedicated space for PPE storage within a fire station.
For those fire stations where it's not possible to have a dedicated room for storing PPE, another option is GearGrid's Standard Mobile & Free-Standing Lockers (Capacity to hold eight sets of PPE) and Personnel Mobile & Free Standing Lockers (Capacity for three sets of PPE). These mobile locker solutions can give your fire department the ability to segregate your PPE storage and reduce the exposure risk to your people and their PPE.
How? By using either of those two mobile locker options so that only the PPE of on-duty personnel is out on the apparatus bay floor near the trucks for quick response. The rest of the station's PPE could then be "staged" in a separate room (not a specifically designed room) or more remote area of the station where it could then be protected using GearGrid's durable Locker Shields.
Locker Shields are ideal for protecting gear from dust and debris between uses, and they shield gear from harmful UV rays helping prolong the life of your gear.
And if you have no choice but to maintain PPE storage on the fire apparatus bay floor (because of space constraints, your station is volunteer-staffed) you can install either the Standard Fire Station Wall Mount Lockers or Free Standing Tube Wall Structure Lockers in combination with the Locker Shields to provide the best shielding for your department's PPE.
DON'T FORGET THE FIREHOSE
Firehose that's been dragged through the debris of a structure fire, hosed off at the scene, and then repacked on the scene is still dirty and contaminated firehose. And once it's back at the fire station, a source of risk to your personnel and their PPE has now "entered the building."
GearGrid has an "app for that" and it's the Five-Shelf Mini Mobile Hose System with Winder. Get two and use one for unloading that dirty hose using the Winder and racking it for moving to the area where it's going to be washed. Use the other as the vehicle for moving the clean hose to the fire apparatus and loading the hose onto the apparatus using the attached Winder.
Reducing firefighter exposure with on-scene activities (e.g., gross decon, protective hood exchanges) to the risks posed by the toxic chemicals, chemical compounds, and carcinogens found in today's structure fires is important. But so too is the need to address risk reduction through better management of the cleaning and storing of your department's PPE once it's back at the fire station.

Request information from GearGrid
Thank You!