PRESS RELEASE
GearGrid's new bed frame Set is the perfect addition to any fire station.
---
FOREST LAKE, MN. -- Just like the rest of our products, the GearGrid Bed Frame Set is built with only heavy-duty materials for ultimate durability. The Bed Frame Set comes with a Headboard, Footboard, and a Puffy Foundation Frame. There are two size options available, including the Twin XL or the Full sizes. On the headboard, there is a laser cut Maltese cross at the top with custom options available. This unique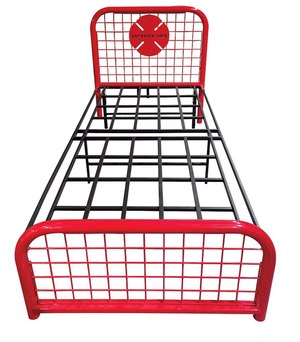 personalization can include the name of your fire department for complete customization.
These beds are made with phenomenal materials that are used in all GearGrid's products. The heavy-duty steel will provide utmost resilience and durability for any fire station. Like other GearGrid products, you can choose from a broad range of seven standard color options. The variation of colors and the customized headboard will allow your fire department to have a one-of-a-kind GearGrid system. For maximum storage space, there is room for storage under the bed, which is essential for any fire department. This GearGrid product will offer long lasting and sufficient sleep in your fire department.
GearGrid is always looking for ways to bring comfort and assistance to fire departments across the world. With all products being made in the United States, GearGrid ensures that each product is made with care and will last the life of your fire department. Whatever your need may be, GearGrid offers the smarter, stronger storage solution.
ABOUT
GearGrid is the strongest and most versatile line of storage equipment on the market. All GearGrid products are manufactured in Forest Lake, Minnesota at its headquarters and production facility. Today you will find GearGrid's full line of equipment storage and transport solutions used in stations nationwide and beyond. For more information visit https://www.geargrid.com/ or call 1-888-634-6694.

Request more info from GearGrid
Thank You!