PRESS RELEASE
GearGrid's new custom fire station table is a one-of-a-kind centerpiece for any fire station
---
FOREST LAKE, MN. -- GearGrid's Custom Fire Station Table is the perfect centerpiece for any room in your fire station, including the kitchen to the conference room to the office. The table is customizable and allows you to have your fire station's logo laser cut into the steel base. This unique feature is sure to provide a unique and personal touch to every table. Made with GearGrid'S rugged durability, you can count on this table to last for many years in your department.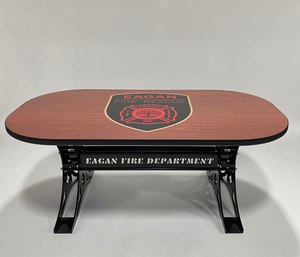 GearGrid'S Custom Fire Station Table is made exceptionally well using T-Mold edging material on the tabletop. In addition, the base is made with 3/8" plate steel. Like other GearGrid products, you can choose from a variety of colors that will best fit your fire station's needs. For the Custom Fire Station Tabletop, you can choose between solid or wood grain laminate colors with your department logo imprinted directly into the laminate for maximum durability. For the base, you can choose between any one of our seven standard color options.
GearGrid also offers the table in a wide variety of sizes that will best fit your station's size requirements. The various sizes include, 4', 6', 8' and 10'. There are options for 12' and 16' which are two 6' and 8' tables combined. For any tables over 8', there will be two logos imprinted directly into the laminate.
GearGrid is excited to help assist fire departments across the glove with finding ways to bring personal, customized items into their fire stations. Whatever your need may be, GearGrid offers the smarter, stronger storage solution.
ABOUT
GearGrid is the strongest and most versatile line of storage equipment on the market. All GearGrid products are manufactured in Forest Lake, Minnesota at its headquarters and production facility. Today you will find GearGrid's full line of equipment storage and transport solutions used in stations nationwide and beyond. For more information visit https://www.geargrid.com/ or call 1-888-634-6694.

Request more info from GearGrid
Thank You!