PRESS RELEASE
GearGrid's new nightstand is the perfect addition to any fire station
---
FOREST LAKE, MN. -- GearGrid's Nightstand is the ideal decoration piece for your fire station dorm room. Being very convenient, this nightstand offers two USB ports and one standard outlet. Having these electrical connections makes for an extremely useful nightstand where you can charge your phone or place a lamp. In addition, an adjustable wire shelf is offered which is beneficial for your fire departments needs and makes for accessible storage.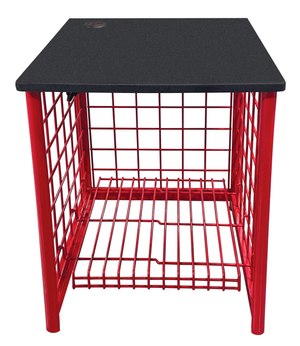 The new and sturdy nightstand is made with GearGrid's top notch steel which provides stability and durability. The top of the nightstand is made with black HDPE that is resistant to water and offers significant strength. This product can be personalized to your fire station's wants and is offered in 7 colors. Having a nightstand in the fire stations will give each dorm room a home feeling and will be serviceable for firefighter's night shifts.
GearGrid offers the nightstand in the perfect size that is accustomed to any bed size. Having the width measuring at 22" and the height of 26", this nightstand will be accessible and transportable. The material is made with 1- ¼" steel tube and ¼ "steel wire.
GearGrid was made by firefighters for firefighters across the globe. Each product is made with care and is all made in the United States. Whatever your need may be, GEARGRID offers the smarter, stronger storage solution.
ABOUT 
GearGrid is the strongest and most versatile line of storage equipment on the market.
All GearGrid products are manufactured in Forest Lake, Minnesota at its headquarters and production facility. Today you will find GearGrid's full line of equipment storage and transport solutions used in stations nationwide and beyond. For more information visit https://www.geargrid.com/ or call 1-888-634-6694.

Request more info from GearGrid
Thank You!