PRESS RELEASE
Groves Inc. Keeps Firefighting Equipment Safe and Secure
---
end picture
Corporate Profile
By Gary Giacomo, The California Fire Service Magazine • March/April 2010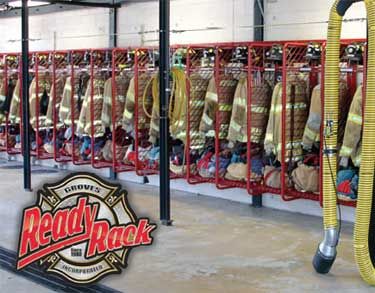 Like many fire service industry vendors, Groves Inc. entry into the fire market began with filling a unique need. Orginally known as C. Gunther Company, the company was known for its quality manufacturing starting with the glass and mirror industry. After discovering critical storage needs facing the stone and glass industries, Groves Incorporated took a quick turn into the fire service market when the local fire department in Cary, Illinois asked for durable shelving designed to keep bunker gear safe, dry and at the ready. Groves' delivered the first of what become known as the "Ready Rack". The chrome-finished Ready Racks spawned a companion product, known as the Red Rack (although it is available in other customer-specified colors as requested). As is L Groves Inc. keeps firefighting equipment safe and secure often the case in the fire service, the "telephone, telegraph, tell-a-firefighter", word of mouth marketing, soon had other neighboring fire departments asking to purchase the same type of racks, once they saw the quality and efficiency of the units. All of this occurred less than 25 years ago.

Today, Red Racks are the company's number one seller, followed closely by the more economical Ready Rack chrome units. Both units offer a vertical organization in an open air configuration. The unique metal grid design allows free air circulation allowing personal protective gear to dry quickly. As a result, mold and mildew will not prematurely destroy turnout fibers. In addition, consistently dry gear helps reduce the incidence of steam burns that could occur from moist gear exposed to high temperatures during fire responses.

Groves, headquartered in the greater Chicago area, moved to McHenry, Illinois and then about two years ago, driven by growth, the company moved to Woodstock, Illinois, about a 50 minute drive from Chicago's O'Hare airport, taking over a 34,000 square foot building.

John Groves, who handles the day-to-day operations in Woodstock, notes that continual growth has served the company and its extensive network of dealers well. Groves who hails originally from Iowa, has been with the company for over 15 years – and has seen tremendous growth.

"We now have distributors in every state, as well as several foreign countries," notes Groves. Groves also supplies the United States military through some distributors. The company and its employees are involved in warehouse distribution, light fabrication, prototype fabrication and sales, in Woodstock, a town of about 20,000. A visit to the little burg might jog the memories of movie affecianados, as exterior shots of quaint Woodstock can be seen in the movies "Groundhog Day" and "Planes, Trains and Automobiles". Also, film legend Orson Welles spent his youth in Woodstock, and some of his earliest performances were at the Woodstock Opera House.

For Groves, Woodstock provides the logistic advantage of a central location for shipping to its vast distributor network, and John Groves notes that two or three trucks roll out of the distribution center daily.

Groves' factory representatives keep the farflung distributor network apprised of the latest improvements and features of each Grove product. In addition to its Illinois-based staff and dealer network, Groves partners with component manufacturers in Minnesota, Texas and Georgia, to name a few states that help keep the Groves' warehouse stocked with products.

Along with Groves' wide variety of Ready Rack products, a big seller for the company are its hose racks. Available in stationary and mobile configurations, the racks can hold up to 3000 feet of two-and-a-half-inch hose. The mobileunits are mounted on heavy-duty brake casters that allow for ease of rolling, but also hold the rack in place when loading and unloading.

Along with its popular storage and hose racks, two years ago the company branched out and acquired a specialized rescue tool -- Sling Link.

The Sling-Link is a multiple application service tool (MAST), that was designed for the fire/rescue service by a San Antonio, Texas firefighter, and is now used by some of the most advanced rescue teams and rescue instructors in the country. The MAST is not only for the "Save Our Own" program, Rapid Intervention Team, or the FAST Team, but a tool that could be carried in a bunker pant pocket to be available for multiple functions; including rigging equipment, rescue, a way out, and also for use as an OSHA approved lifting sling.

Each MAST meets NFPA Standard 1983 (06 Edition) as a Personal Use or General Use Auxiliary Harness. For more information about Groves Incorporated and its products visit www.groves.com.