PRESS RELEASE
Introducing New Apparatus Storage Innovation From GearGrid
---
By all accounts, it's a major step forward in apparatus tool storage, an area which hasn't been addressed for some time. Ideal for use in all styles of apparatus, including rescue trucks, pumpers and ladders!
Currently, tools are most often stored by securing them to aluminum fabricated plates. Typically, the tool positions are fixed and can't be moved around. In some cases, there are solid aluminum grids that swing out, but have the drawback of not being able to see what's stored on the other side. Another system uses adjustable brackets, but is very expensive and requires drilling of holes into the aluminum. Further, truck manufacturers have shied away from double grids because tools located on the inside grid are not visible; most firefighters don't have the time to search for a tool they need quickly.
GearGrid Swingout and PullOut Tool Grids provide full visibility and ready-access to all tools. Adjustable, stainless steel tool holders allow users to maximize storage space while providing easy tool retrieval. Constructed of heavy gauge steel tubing and high strength 1/4" diameter wire, GearGrid SwingOut and PullOut Tool Grids feature a durable TGIC powder coating. Color options include high visibility red as well as seven other standard color options. Custom colors available upon request. Tool grids include exterior safety lights for safety.
Learn more about these innovative storage solutions.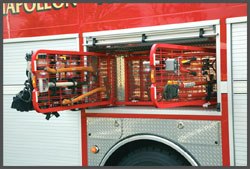 Request more info from GearGrid
Thank You!