FR1 community: Top 15 'magical' PPE improvements
---
As a social experiment, we offered our Facebook fans a magic wand to change one thing about their PPE. We received some innovative answers, some goofy ones and even a few from folks who don't think anyone with a wand should be in the fire service.
But some common themes emerged, so here are the top 15 ways you'd improve your PPE (What did we miss? Add your ideas in the comments):

"SCBA mask you can wear with a short beard." - Mike Cantu

"More padding in the knees!" - Jade Robinson

"Make it light as a feather!" - Rick Sisson

"Ergonomic design geared toward spinal movement." - Renee Foster

"Grab loops on the bottom of pants for better grip during S&R, and light-up boots to help keep track of each other during S&R." - Paul Dudley

"Thinner structural firefighting gloves that would withstand the same (or higher) temperatures but offer improved dexterity. These gloves would also have the ability to dry out in an instant." - Allen John Cameron

"I'd make it like Iron Man's suit except with cool pinstripes, and it would be able to do hose testing and plug checking by itself." - Fernando Danger Videgaray

"Built-in Kevlar vests." - Scott Morse

"Make it affordable for small departments like ours. That way we can get nice gear, not gear that is old and worn-out." - Jason Clatt

"Install a TIC inside the mask." - Logan Thrash

"Here's an idea for the SCBA: Air purifier. Takes in the smoke, filters it, cleans it and produces air for us to use. Lightweight and powered by us breathing." - Will Hilliard

"Put a temperature failure sensor in bunker gear that would vibrate at the wrist on the coat or the waistline on the pants when you reach temperatures reaching failure." - John D. Findlay Jr

"It would fit my small frame better." - Shawna Hardman

"Lighter, safer and more dexterity." - Derek Ferguson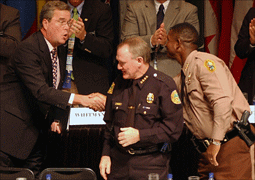 "Internal air conditioning." - Bob Chilton
Join the conversation: Like FireRescue1 on Facebook.